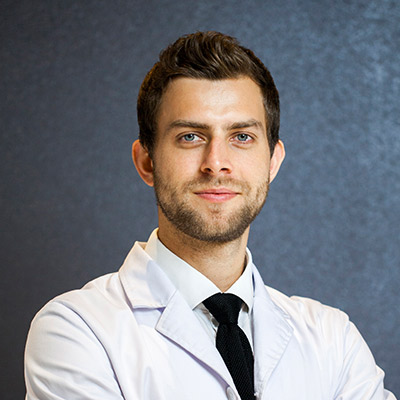 Dr. Volodymyr Chernykh
Medical Advisor
Dr. Volodymyr Chernykh completed his specialization in Dermatology and subspecialized in Aesthetic Dermatology after completing his Medical Degree in Eastern Europe. He discovered his strong inclination and passion towards anti – aging medicine and started participating in professional training and master classes in Aesthetics.
He subsequently pursued a certification course in Regenerative Medicine at Utrecht University in the Netherlands in 2018. He obtained his Good Clinical Practice (GCP) certificate from the American National Institute of Health (USA) in January 2023.
Dr Chernykh is a Board Member in good standing of the International Association for Cell Therapy (Europe) and the International Society of Stem Cell Transplantation (USA), as well as a Board member of AAAM (American Association of Anti-aging medicine). Since February 2023, he has also held a certificate as a Nutritional Therapist (The Health Science Academy, The UK).
As an anti-aging industry professional today, he has been actively travelling worldwide in various international seminars, conferences, workshops, and meetings to further his knowledge and expertise in the anti-aging industry.
With his vast experience in this industry, he was a speaker and trainer for international aesthetic industry companies in Dermatology, Mesotherapy and Lasers in Aesthetics for Austrian, Spanish, French and USA industry leaders.
What Is HIFU? The New, Safe Way For Skin Lifts! By Dr. Volodymyr Chernykh
Pico Laser: No Surgery Needed For Flawless Skin! By Dr. Volodymyr Chernykhh
How To Grow Hair Without Surgery With Dr. Volodymyr Chernykh
Exploring The Potential Of Exosomes With Dr. Volodymyr Chernykh
Peptides: Boosting Health & Vitality Through Cellular Signaling With Dr. Volodymyr Chernykh
Thermage: Unlock The Secret To Smooth, Youthful Skin With Dr. Volodymyr Chernykh!
Top Supplements For Beauty & Wellness With Dr. Volodymyr Chernykh!