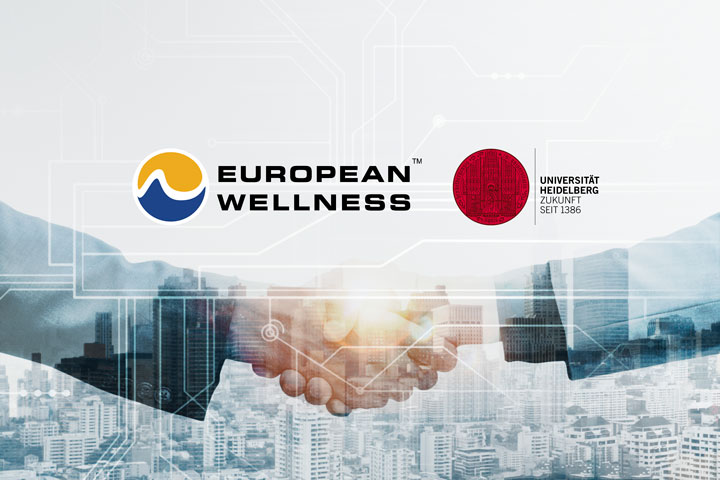 European Wellness Joint Research with Heidelberg University in Journal Publication
Heidelberg, Germany, May 3, 2023 – European Wellness Academy (EWA), a wholly owned subsidiary European Wellness Biomedical Group (EW Group) has entered into a cooperation agreement with Heidelberg University in medical research. The research project, titled "A Tendon Specific Double Reporter Transgenic Mouse Enables Tracking Cell Lineage and Functions Alteration in-vitro and in-vivo," is financed by EWA.
This research developed and defined a transgenic mouse line with tendon-specific expression of a double fluorescent reporter system, which will satisfy an identified need for animal models to allow real-time monitoring cell behaviours throughout tendon development, growth and repair in vitro and in vivo.
The Scleraxis (Scx) promoter activates the mScarlet red fluorescent protein to detect changes in lineage. The blue fluorescent protein reporter in controlled by 3.6kb Collagen Type I Alpha 1 Chain (Col1a1) proximal promoter. Two promoter regions called tendon-specific cis-acting elements (TSE1 and TSE2) ensures that blue fluorescent protein (BFP) is only expressed in tendon tissues.
Based on these findings, the tendon-specific double reporter system may be a unique paradigm that may be utilized to investigate cell-redifferentiation as well as modifications to the extracellular matrix both in vitro and in vivo. The transgenic mouse Scx-mScarlet has a stable fluorescence expression, making it an excellent tool for monitoring Scx+ cells throughout tendon formation and growth.
The objectives of this study were to examine the expression of Scx-mScarlet and Col1a1-BFP in the embryo; to quantify the Scx+ cell density in the central region of the Achilles tendon from young and adult mice; and to validate the tendon specific double reporter system by adipose-derived mesenchymal stem cells (ADMSCs) stretching test in vitro.
This joint-research strengthen between both institutions in many ways and is not limited to research and innovation. The quality of education and visibility of both institutions will go greater heights through this partnership.
A non-profitable academy body of EW Group located in Germany, United Kingdom, Switzerland, Greece and Malaysia, as a CPD authorized body with a premium training and development wing that revolves around cutting-edge Bio-Regenerative Medicine modalities for practitioners and researchers. It has extensive years of combined clinical experience and a core academic team comprising of qualified MDs and scientists with numerous international affiliations and accreditations.