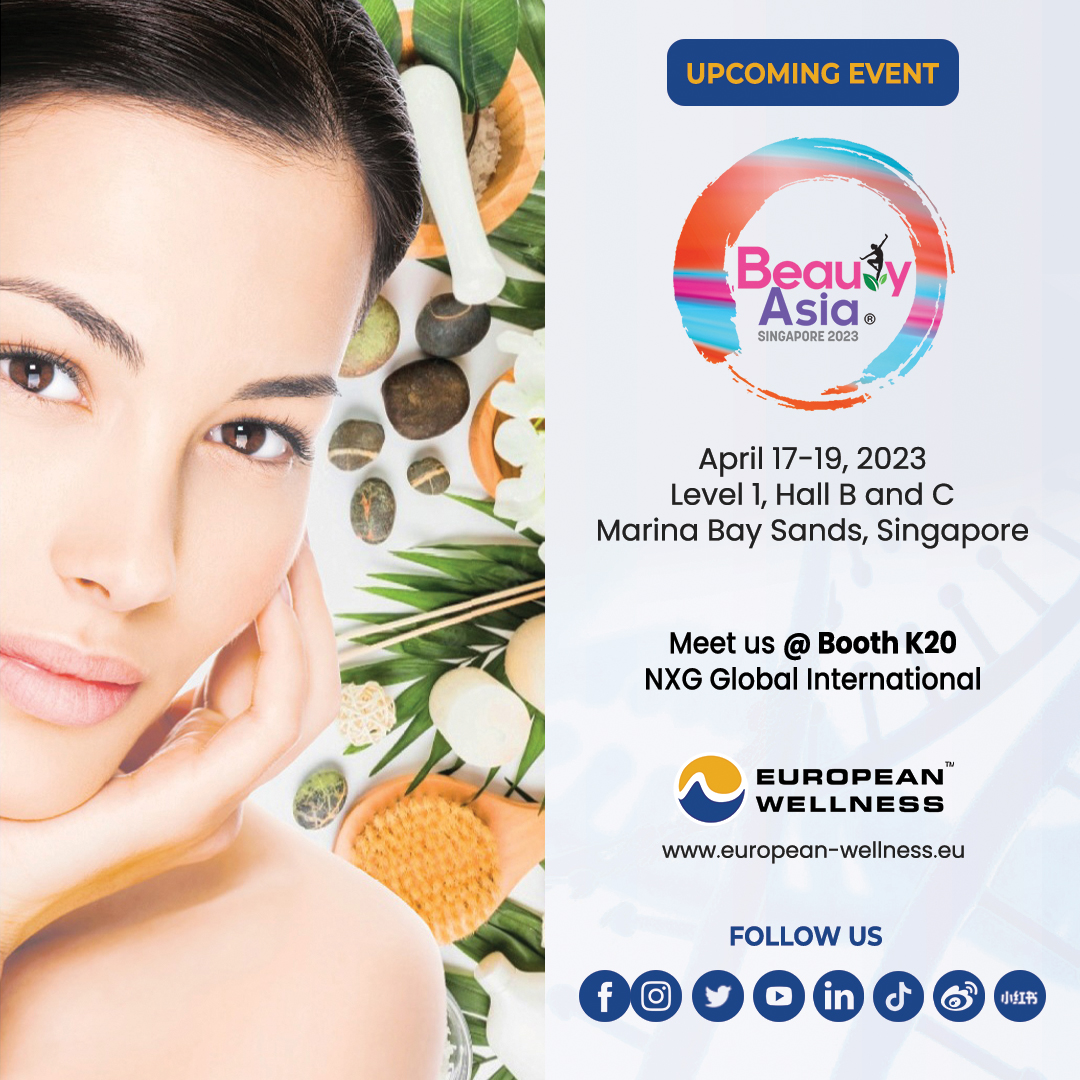 European Wellness will be at BeautyAsia Singapore 2023!
We're excited to announce that European Wellness will be participating in the 25th Edition, BeautyAsia Singapore 2023 event! Showcasing innovative products from global businesses and brands that offer new possibilities in the ever-growing beauty and wellness industry, BeautyAsia sets the standard as the region's leading aesthetics trade show – and we're proud to be a part of history as they unveil their 25th edition of the world-renowned event!

Date: 17th – 19th April 2023
Opening hours: 1100 – 1900hrs
Venue: Level 1, Hall B and C, Marina Bay Sands, Singapore
Visit our Booth @ K20 (NXG Global International), meet the team, and enjoy the benefits of one of the most highly-anticipated annual networking and exhibition events in the world!
One of our esteemed experts, Dr. Glen Alvin, will also be attending and presenting on two exciting topics! The talks will be held on the following times:
17 Apr 2023 (Mon)
2.30pm – 3.30pm
Topic: Cell Therapy: The New Approach to Dermatology and Dermatologic Surgery.
18 Apr 2023 (Tues)
2.30pm – 3.30pm
Topic: Peptides: A Novel Treatment Option for Hair and Eyelash Growth.
Come join us! This event is an incredible opportunity to network, expand your level of expertise, and re-discover beauty – and we can't wait to have you with us to experience it all at BeautyAsia Singapore 2023! 🙌
About BeautyAsia: https://beautyasia.com.sg/
About European Wellness: https://european-wellness.eu/