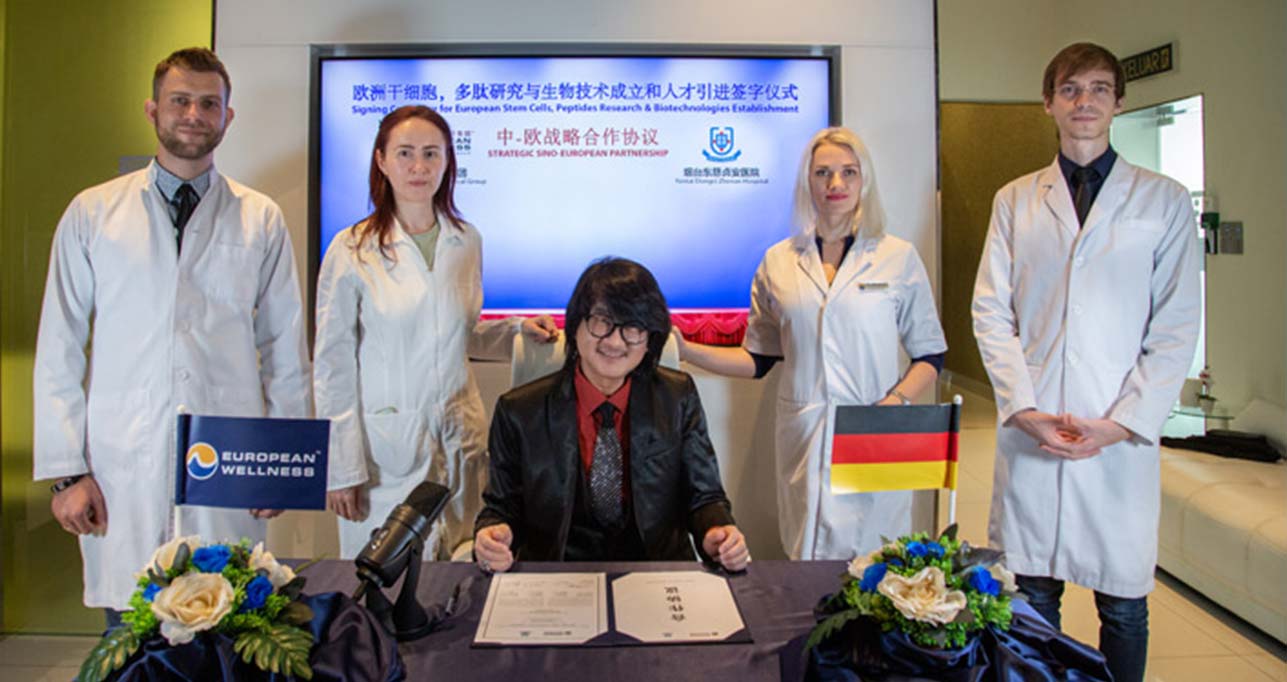 (Japanese Translated) European Wellness and Dongci Join Forces to Bring Regenerative Medicine To Shandong, China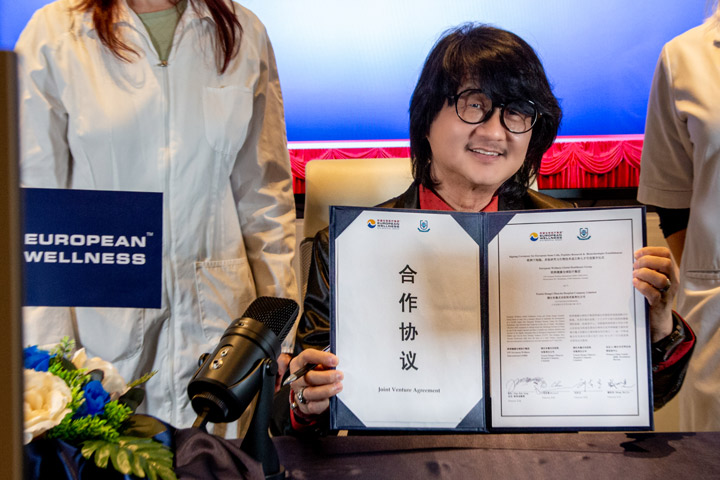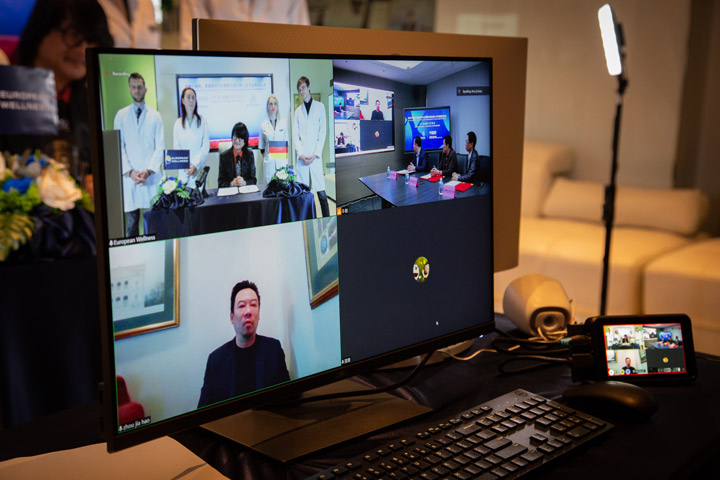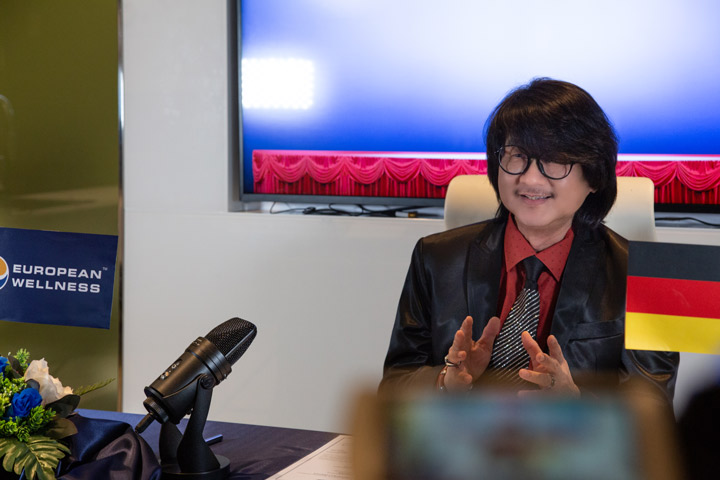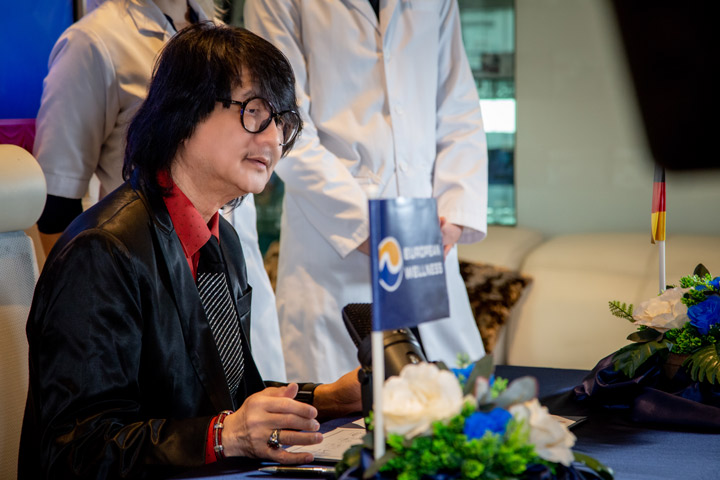 マレーシア・コタキナバル、2021年5月20日/PRニュースワイヤー/
–ヨーロッパウェルネスバイオメディカルグループ(European Wellness Biomedical Group)は、中国の山東省に約数百万米ドルの再生医療センターのプロジェクトを開発するために、煙台Dongci ZhenAn病院グループと了解覚書(MOU)を締結しました。
2021年4月7日のオンライン調印式でヨーロッパウェルネス煙台プレミアムセンター(European Yantai Premier Centre)建設と立ち上げに合計440万米ドルを投資する合弁事業に合意しました。
この最先端医療センターは、ヨーロッパウェルネス独自のシステム、プロトコル、細胞治療製品及びサービスを含む生物の再生医療ソリューションを利用して運営し、地元の豊富な経験知の管理者や医療関係者を採用するようになります
広さ約12, 000 平方フィートの6階建てヨーロッパウェルネス煙台プレミアムセンターは、山東省(中国)で最大のドイツ系専門センターの私立病院となります。山東省は、2018年の国内総生産で1兆156億米ドル、国内で3番目に大きな州経済として近年急増しています。
再生医療が中国、世界的にも急速に発展している時期に合弁会社が設立されました。
最先端治療を支援する政府の取り組みとしてアジアの医療業界への外国投資の拡大、慢性疾患や臓器移植を必要とする患者の増加により、アジア太平洋地域(APAC)の成長を加速しています。特に中国の再生医療市場は、 2020 年から2025 年の予測期間にわたって25%の年平均成長率で成長すると予想されています。
4月7日の契約締結では、煙台Dongci ZhenAn 病院グループの代表としてバーナード・チャウ(Bernard Chau) 監督とリュウ・ドンシェン(Liu Dong Sheng)監督、European Wellnessグループ会長の マイク・チャン(Mike Chan) 教授&博士が出席しました。テンセントのオンライン会議で行われた調印式は、中国煙台市投資局のシェン・シジエ(Sheng Shijie)所長は、立会人として参加されました。
「このプロジェクトの重要性は、世界的にも国内的にも急速に成長している市場での雇用機会を含む社会経済的利益だけでなく、知識や技術移転の面でも非常に大きい」とバーナード・チャウ監督は語った。
バーナード・チャウ監督は、マイク・チャン教授の意見と賛同しこの合弁事業は、コミュニティの為の高品質な健康サービスを提供するための次のステップとなると信じております。
「中国に技術を導入することで今こそ、拡大と強化の時です。」
「弊社は、地元のコミュニティにヨーロッパベースの健康とウェルネスモダリティより得られた再生医療に関する何十年にもわたる研究と専門知識をもたらします。新型コロナウイルスの影響で、旅行制限が増え、同質の医療のために海外に行くことができる人が減っている為、おそらく今まで以上に関連性があるかと思われます。」とマイク・チャン教授は述べています。
この新しい煙台ウェルネスセンターの建設はすでに進められており、2021 年 9 月には、グランドオープンを目指しています。
ヨーロッパウェルネスバイオメディカルグループ
ヨーロッパウェルネスは、スイスの生物医学と生体分子療法の知識と有効性に基づいた総合的なウェルネスと若返りのコンセプトブランドであり、アンチエイジング、美学、および終身疾患管理の治療を提供しています。ウェルネスセンターは、スイス、ドイツ、ギリシャ、タイ、バングラデシュ、フィリピンを含む世界中にあります。このグループは、教育でも高い評価を得ており、世界中の医療従事者とウェルネスの実践者に教育、トレーニングやエンパワーメントを提供しています。
サイトのリンクは下記となります。
煙台Dongci ZhenAn 病院グループ
2005年に中国の山東省にて設立されたDongciは、国営企業病院から現在の私立総合病院に移行しました。
実績:
様々な学部で運営するための「私立総合病院免許」を保持。
公的医療保険制度の償還払いに関する「完全な適格性」を授与。
国費による身体検査のセンター。
上記の特権の資格を持つ経験豊富な管理チーム。
14年前に建てられた40, 000平方フィートの病院(都市中心部の顧客基盤で425万米ドルの資産価値)、新たに構築された80, 000平方フィートの病院(「グレード2私立総合病院」)の資格)、および独占的の幹細胞活性化とバイオテクノロジーのリハビリテーションセンター。
サイトのリンクは下記となります。
メディアに関するお問い合わせ担当者:
アンドリュー・タム (Andrew Tham)
ヨーロッパウェルネスアジア太平洋のハブ
電話番号: (60)88 448 989
携帯電話: (60)12 850 3990
KOTA KINABALU, Malaysia, May 20, 2021 /PRNewswire/ — European Wellness Biomedical Group has signed a memorandum of understanding (MOU) with Yantai Dongci ZhenAn Hospital Group to develop an exclusive multimillion dollar-project Regenerative Medicine Center in Shandong, China.
In a digital signing session on April 7th, 2021, the two organisations agreed on a joint venture that will see a total investment of USD 4.4 million for the building and launching of European Wellness Yantai Premier Center.
Their state-of-the-art medical center will operate using European Wellness's proprietary systems, protocols, and biological regenerative solutions including cell therapy products and services, and utilize Dongci's regional expertise, along with their fleet of highly-trained administrative, maintenance, and medical personnel.
The approximately 12,000 sq. ft. European Wellness Yantai Premier Center, which forms a division of the 6-storey licensed private hospital, will be one of the largest German-affiliated specialist centers in China's Shandong Province – which has surged in recent years as the country's third largest provincial economy with a GDP of USD 1.156 trillion in 2018.
European Wellness and Dongci's joint venture comes at a time where Biological Regenerative Medicine is rapidly emerging both globally and locally in China.
Government initiatives supporting advanced therapies, increased foreign investment in the Asian healthcare industry, and the growing number of patients suffering from chronic disease conditions or requiring organ transplants are driving growth in the APAC region – with China's regenerative medicine market in particular expected to grow at a compound annual growth rate of 25% from 2020 to 2025.
Directors Bernard Chau and Liu Dong Sheng represented Yantai Dongci ZhenAn Hospital Group during the April 7th MOU signing, while European Wellness was represented by its Group Chairman, Prof. Dr. Mike Chan. The virtual signing ceremony, which was held online on Tencent Meeting, was witnessed by Sheng Shijie, Director of China Yantai Zhifu Investment Bureau.
"The significance of this project is massive, not only in terms of socio-economic benefits including job opportunities in a market that is rapidly growing both globally and domestically, but also in terms of knowledge and technology transfer," said Bernard Chau.
His sentiments were shared by Prof. Dr. Mike Chan, who believed that the joint venture will be the next step in providing communities with access to high-quality health and wellness services.
"Now is the time to expand and enhance by bringing the technology to China.
"We will be bringing in decades of research and expertise on regenerative medicine from European-based health and wellness modalities right here to the local communities. That is perhaps more relevant now than ever before… because of Covid-19, there are more travel restrictions, and fewer people are able to go overseas for medical treatments of similar quality today," said Mike Chan.
Construction on the new Yantai Wellness Centre is already underway, with the facility set for a targeted grand opening in September 2021.
European Wellness Biomedical Group
European Wellness is a holistic wellness and rejuvenation concept brand based on the knowledge and effectiveness of Swiss biological medicine and bio-molecular therapy, offering treatment for anti-aging, aesthetics, and whole-life disease management. Its premium accredited Wellness Centers are located all over the globe, including Switzerland, Germany, Greece, Thailand, Bangladesh, and Philippines. The group is also acclaimed for its Academy, offering education, training and empowerment to health and wellness practitioners worldwide.
Yantai Dongci ZhenAn Hospital Group
Established in Shandong Province, China in 2005, Dongci has thrived through its transition from a State-owned Corporation Staff Hospital to its current status as a Privately-owned General Hospital serving the public. Among its achievements:
Holds a rare "Private General Hospital License" to operate in a full spectrum of faculties
Awarded "Full Eligibility" for Public Health Insurance Scheme Reimbursements
"Appointed Centres" for state-funded Body Checks
Possesses an experienced Management Team that qualifies for the above privileges
Infrastructure portfolio includes a 14-year-old 40,000 sq. ft. hospital (with established city-centre client base and assets valued at USD 4.25 million), a newly purpose-built 80,000 sq. ft. hospital (with a "Grade 2 Private General Hospital" qualification), and an exclusively-nominated Stem Cell Rejuvenation & Bio-Tech Rehabilitation Centre.
FOR MEDIA INQUIRIES CONTACT:
Andrew Tham
European Wellness Asia Pacific Hub
Tel: +6088-448989
Mobile: +6012-8503990
Email:andrew.tham@european-wellness.com