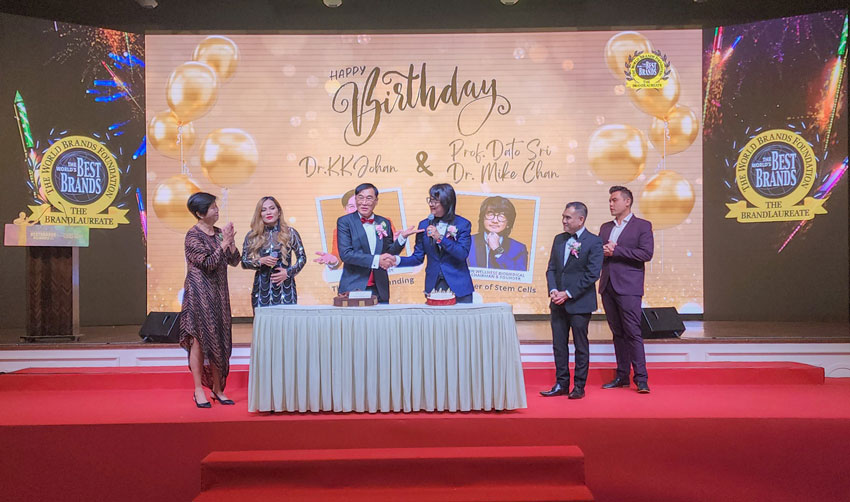 The BrandLaureate Awards 2022 Celebrates Prof. Dato's Sri Dr. Mike Chan's Birthday
KUALA LUMPUR: Stars dazzled, crowds cheered, and titanic icons of their respective fields graced the stage during the prestigious BrandLaureate Awards 2022, held at The Majestic Hotel, Kuala Lumpur on August 25th – but Prof. Dato' Sri Dr. Mike Chan had all eyes on him in a very special moment during the star-studded night!
Invited as a VVIP and presenter of the BestBrands Corporate Excellence awards, the European Wellness Biomedical Group Chairman, whose birthday is on the 21st of August, was invited to the stage together with The World Brands Foundation's (TWBF) world president Dr KK Johan to celebrate both of their birthdays. The session also included a short video showcasing Prof. Dato' Sri Dr. Mike Chan's achievements. An iconic moment for an iconic man!
The BrandLaureate BestBrands Awards are an annual awards ceremony hosted by TWBF that celebrates and recognises commendable personalities and brands that are market leaders in their respective industries. Prof. Dato' Sri Dr. Mike Chan is a part of the event's history of luminaries, having previously received the "Brand ICON Leadership Award (2021)" and "Most Outstanding BrandLeadership Achievement Award (2020)", as well as represented European Wellness to receive its "BrandLaureate BestBrand in Wellness – Innovative Premium Therapeutic Solutions Award (2020)".
What a night to remember!