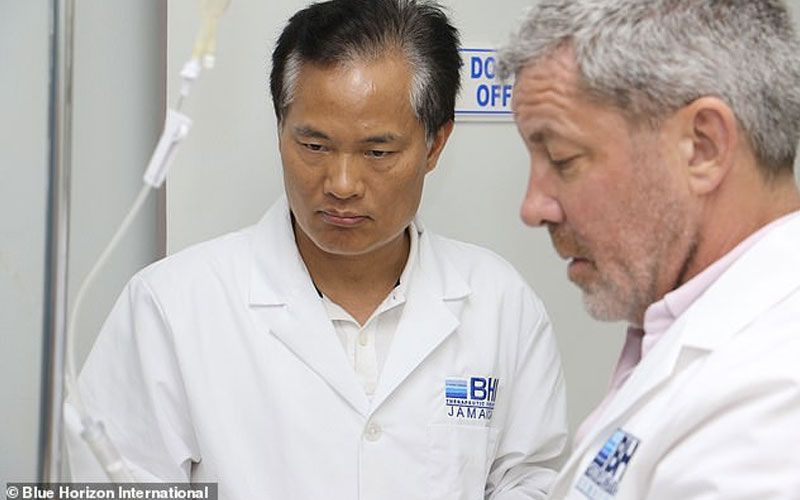 Breakthrough in coronavirus pandemic with stem cell injections
EXCLUSIVE: Chinese doctor claims he made breakthrough in coronavirus pandemic with stem cell injections – having 100% success rate after treating nine mostly elderly patients
By Ryan Parry West Coast Editor For Dailymail.com
15:03 18 Mar 2020, updated 01:00 19 Mar 2020
The patients, mostly elderly, had developed serious breathing issues as well as overwhelming inflammation in their lungs before they volunteered for Dr. Wu's medical trial earlier this month in Wuhan.
Alongside conventional treatment, Dr. Wu infused Human Umbilical Cord Mesenchymal Stem Cells (UC-MSCs) directly into all nine patients' veins.
It's claimed they all made a complete recovery within days of receiving the treatment.
News of the breakthrough only reached Dr. Wu, who is partnered with American stem cell company Blue Horizon International (BHI), early last week.
In an exclusive interview, the scientist told DailyMailTV: 'This treatment could potentially save thousands upon thousands of lives, so naturally we are very happy with these results.
'Yes, it is a cure, but it is still very early in the process and we still have work to do.
'We need to finish the clinical trials to confirm whether the stem cell therapy is safe and efficacy to treat novel coronavirus pneumonia.'
Stem cells, often dubbed the building blocks of life, are cells that have the ability to develop into different cell types. They can also help repair damaged tissue.
Scientists can take stem cells from adult tissue such as bone marrow but the most controversial type are embryonic stem cells, which come from human embryos.
Dr. Wu and BHI only use stem cells taken from the umbilical cord placenta, which is considered throw away tissue.
Dr. Brian Mehling, co-founder of BHI, is working closely with Dr. Wu on the research and said the results of the medical trials are 'astounding'.
'As the coronavirus outbreak unraveled, coincidentally it started in Wuhan, China which is where our stem cell labs have been for over a decade,' he explained.
'A lot of people were coming down with severe pulmonary pneumonia, pulmonary fibrosis and ultimately they were dying.
'But it's not the viral load that kills them it's the pulmonary complications that develop, just like influenza.
'So our research found that stem cells are extremely effective in decreasing inflammation and also enabling the body to repair damaged tissue.
'So we thought what the heck, let's give it a shot. We gave nine patients, who were in hospital with severe, acute pulmonary dysfunction, we gave them core blood stem cells via IV and 100 percent of them got better, so of course we were astounded.'
Disclaimer: The materials and resources presented and hyperlinked here are for the public reference only. They may be updated at any given time and may not necessarily represent our view.