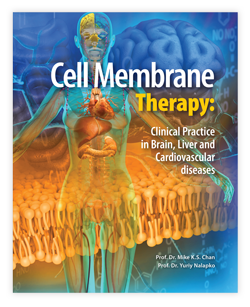 Cell Membrane Therapy: Clinical Practice In Brain, Liver And Cardiovascular Diseases
A book by Prof. Dr. Mike Chan and Prof. Dr. Yuriy Nalapko
Published by Matador, Troubador.co.uk, London – Medical Research: ISBN 978 1838592 509
Human Cell Membrane Therapy explores the theoretical and practical dimensions of improving service provision on majority of the diseases caused by cell damage. This readable and well-structured book is based on the reviews of current scientific publications on cellular membranes, its chemical structure and changes in many diseases. This monograph opens the new overview of the concepts of cell membranes therapy.
Detailed role of phosphatidylcholine as the principal component of the cell membranes is described. Among the important issues discussed are Parkinson's and Alzheimer's diseases, atherosclerosis, fatty liver disease, diabetes mellitus etc. The final chapter evaluated progress in the use of PlaqX – phosphatidylcholine-based substance, which is able to restore the cell membranes and provide significant health improvement. This detailed review and authors experience will be of value to anyone with an interest in the area of regenerative, biomolecular, and anti-aging medicine.
Professor Dato' Sri Dr. Mike KS Chan is one of the pioneers of cellular and cell membrane therapy in Europe and Asia since the early 1980's. He founded and spearheaded one of the world's largest researches for bio-molecular medicine based in Switzerland and Germany with presence in almost 80 countries globally. He conducted more than 1,000 lectures, seminars and symposiums worldwide across more than 60 countries in the field of anti-aging, cell regeneration, regenerative medicine and stem cell therapies.
Dr. Yuriy Nalapko is academician and practical doctor in anesthesiology and intensive care. One of the areas of his scientific interests is longevity and a cell functioning in different diseases. His Philosophy Degree dissertation was devoted to the intensive care of brain injury patients. Last time he pays his attention to the cell membranes and the different methods of its structural and functional corrections. He considers the cell membrane therapy as the important component of the regenerative medicine and biomolecular therapy.