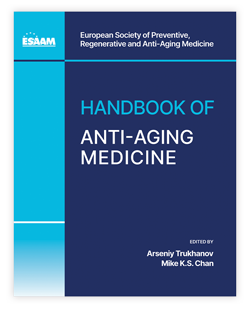 Handbook Of Anti-Aging Medicine
A book by Dr. Arseniy Trukhanov and Prof. Dr. Mike K.S. Chan
Published by EUROPEAN WELLNESS ACADEMY – Medical Research: ISBN 9781662930201, eISBN: 9781662930218
Library of Congress Control Number: 2022941479
This handbook focuses on the different aspects around the anti-aging, preventive and regenerative medicine. Discussion about the paradigm of ageing as well as the concepts of anti-aging medicine, its standards and technologies are highlighted in more than 20 chapters all written by international experts in regenerative medicine. Some of the topics covered in this book include:
Ageing, aging and anti-aging: A Decalogue for anti-aging medicine
Lessons from Sicilian centenarians for anti-aging medicine
Molecular biomarkers and genetic aspects of aging
Future of peptides in clinical practice
Mitochondrial approaches in anti-aging medicine and in SARS-CoV2 infection
Tissue-specific autoantibodies in preventive medicine
Chronic stress as a psycho-neuro-immunological dysfunction
Gut-associated immune system and its health implications
Regenerative medicine with platelet-rich-plasma
Alzheimer's disease: Preventive and anti-aging neurology
Autistic spectrum disorder and mitochondrial medicine
Integrative hormonal approach in anti-aging medicine
Preventive cardiology and phlebology
Aesthetic and anti-aging medicine
Preventive ophthalmology
Preventive oncology
Nutrition in healthy aging
Physical activity and fitness paradigms for anti-aging and longevity
All clinicians working in anti-aging medicine – as well as ageing people – should read this book. It will hopefully set the "Standard of anti-aging medicine" and thus will be a tool in planning the challenges we all will face caring the ageing patients and creating the preventive programs for them.