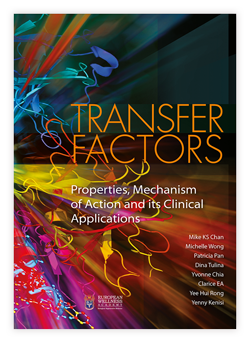 Transfer Factors: Properties, Mechanism Of Action And Its Clinical Applications
By Prof Dr Mike KS Chan, Prof. Dr. Michelle B.F. Wong, Dr Patricia Pan, Dr Dina Tulina, Yvonne Chia, Clarice EA, Yee Hui Rong and Yenny Kenisi.
Published by EUROPEAN WELLNESS ACADEMY – Medical Research: ISBN: 9781662930010, eISBN: 9781662930027
Library of Congress Control Number: 2022941736
To date, transfer factors hold promise as one of the most exciting discovery in immunology and disease prevention. As the 21st century unfolds, these small molecules represent an important key to human health and well-being. Transfer factors are material present in dialysable leukocyte extracts capable of transferring cell-mediated immunity to pathogens. Transfer factors from one immune donor can be introduced into a non-immune recipient, potentially delivering an improved ability to fight threats to the recipient's health. Similar to vaccines, transfer factors are prophylactic when administered prior to exposure to a pathogen.
This book is an overview of basic immunology and the concept of transfer factors derived from past and current scientific publications. In this book, the properties, mechanism of action, and clinical applications of transfer factors are described. Since their discovery, evidence suggests transfer factors play an important role as immune modulators in treating diseases associated with the defective function of cell-mediated immunity such as cancer, infectious diseases, etc.
The MF Plus Super Transfer Factor is then introduced including its function, characteristics, course, mode of administration, and advantages. The conclusion compiles research papers of transfer factor from years 2009 to 2020.
This book will interest researchers and scientists in fields such as immunology, molecular medicine, biomedicine, immunotherapy, pathology, microbiology, and oncology.