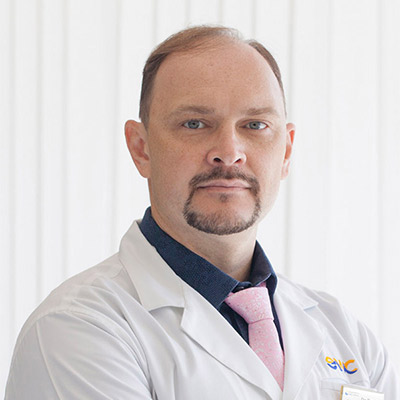 Dr. Dmytro Klokol
Head of Medical Advisory Board
I have completed my Medical Degree in 1990's in Eastern Europe. Immediately after graduating Medical University I joined a post-graduate specialization in General Surgery and slightly later I was also trained in minimally-invasive surgery and surgical endoscopy. Parallel to the hospital practice I was deeply engaged in a medical clinical research that resulted in my PhD degree in Surgery, which I completed in the Institute of Emergency and Reconstructive Surgery (Academy of Medical Sciences, UA). Upon completion of PhD degree, I became an Associate Professor at the Department of Surgery and was even offered a post of the Depute Dean of Foreign Medical Faculty. However, I always had a special interest in Aesthetic, Anti-aging Medicine, minimally-invasive, Stem cell research and Cell Therapy and staff like that.
Later, in 2009 I moved out to continue my work and research in South-east Asia. Over the years of work in Asia apart from busy clinical practice, I presented in multiple medical conferences and congresses, conducted workshops, seminars and professional training for doctors. In 2013 Japanese Society of Hepato-Biliary-Pancreatic Surgery gave me grant and brought me to Japan to participate in their Annual meeting and present results of our study. I always belonged to the team that was trying our best to be the First and the Best in what we do. I greatly value the years I spent working as part of the wonderful team of glorious Hospital of Queen Elizabeth.
I always believed that in curing people principle of Ablata causa tollitur effectus, as ancient Latin's used to say, is primarily important. That is what sometimes contemporary medicine is forgetting about. We need to pay more attention to the actual root of the disease, its cause. And, once we eliminate it we have more chances for success. It is vitally important to give the body best chances for self-healing and self-recovery as well. When we cease the cause, we cease the effect.
We believe that future belongs to regenerative and preventive medicine that also employs biological natural remedies. It is also well expressed by quote of Terence McKenna who said, "Nature loves courage. You make the commitment and nature will respond to that commitment by removing impossible obstacles. Dream the impossible dream and the world will not grind you under, it will lift you up."
The words below belonging to a great Dutch doctor Hermann Boerhaave inspire me.
He who doth with the greatest exactness imaginable, weigh every individual thing that shall or hath hapned to his Patient, and may be known from the Observations of his own, or of others, and who afterwards compareth all these with one another, and puts them in an opposite view to such Things as happen in a healthy State; and lastly, from all this with the nicest and severest bridle upon his reasoning faculty riseth to the knowledge of the very first Cause of the Disease, and of the Remedies fit to remove them; He, and only He deserveth the Name of a true Physician. – Hermann Boerhaave (31 Dec 1668 – 23 Sep 1738)
Introduction
Dr Dmytro views on BRM and practising medicine of the future today at EW Group
Medicus curat, Natura sanat morbus
(Physician treats, Nature cures)
Author & Co-author for Number of Books (Published in UK) among them:
Other Achievement and Interests
Member of the International Society of Interdisciplinary Anti-aging Medicine and completed Advanced Course of Facial Aesthetic Rejuvenation (AMWC, Colombia). In 2016 underwent training and certification in Complementary Therapies in General Medicine, Cancer treatment and Aesthetics (Germany); holds a Certificate of Good Clinical Practice awarded by American National Institute of Health (USA); a Board member of International Association of Cell Therapy (Switzerland) and International Society of Stem Cell Transplantation (USA), a Member of the Editorial Board of Journal of Allergy and Immunology (USA), and a master-level degree in Regenerative Medicine from EU University.
An author of three books and two more in editing and more than 60 articles.
At present time has entirely dedicated his professional career and personal interests to advocating wellness and healthy life-style, and doing research on pharmaco-chemistry, biomolecular therapy, and ethnobotany. A Head of the Medical Advisory Board of Stellar Biomolecular Research (Germany) and a Chief Medical Director European Wellness Centers International Group.