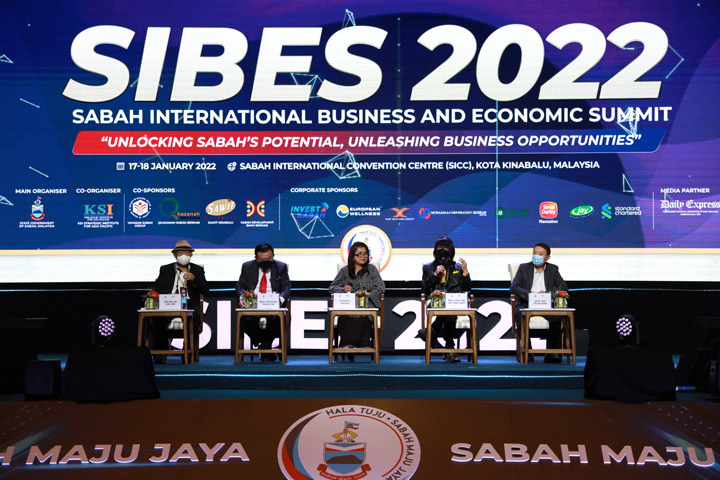 European Wellness's Role in Unlocking Sabah's Potential: Prof. Dato' Sri Dr. Mike Chan at SIBES 2022!
Famed for its pristine beaches, exotic rainforests, and majestic mountains, the Malaysian state of Sabah flourished on the back of its vast natural resources and burgeoning tourism industry. When the COVID-19 pandemic hit, it wreaked havoc on that sector and the global economy in general, affecting countless lives and livelihoods.
Now, at the dawn of a new year, life approaches relative normalcy as the pandemic continues to slow down, but a pressing question remains: what can be done in Sabah to improve its economic recovery and eventual growth?
On 17-18 January, the state's leaders and stakeholders across government, private, and civil society sectors convened at the Sabah International Business and Economic Summit (SIBES), held at its picturesque seaside capital of Kota Kinabalu, to discuss the state's economic future. It drew international attention with participants from 21 countries around the world, with a total of 780 physically attending the event, in addition to over 493 registered Zoom attendees.
In his opening address, State Chief Minister Datuk Seri Panglima Hajiji Noor announced numerous government initiatives, such as the multi-million-dollar project to plant 80 million trees and create potential employment for 80,000 people as well as the plan to establish world-class tourism facilities in anticipation of the reopening of borders.
But it was his call for investors both domestic and abroad to explore the vast business opportunities in the state that caught the attention of European Wellness Biomedical Group Chairman and Chief Researcher Prof. Dato' Sri Dr. Mike Chan, who was an invited speaker at the KSI (Strategic Institute for Asia Pacific)-organized summit.
Echoing the Chief Minister's sentiments, Prof. Dato' Sri Dr. Mike Chan suggested that the state government open up Sabah for the expansion of biomedical sciences and wellness industries. According to the top scientist, various players in these industries, including European Wellness, already have the capacity and willingness to train Sabahans in these fields.
"Sabah is not just the Land Below the Wind. I say we must also go WITH the wind. Now is the time to expand; we must train the locals, we must take our mentality to the next level," he said, suggesting that the state government encourage the opening of biomedical labs by granting them pioneer status.
Prof. Dato' Sri Dr. Mike Chan, who holds a position in numerous international associations including Board Director and Regenerative Medicine Council Head of ESAAM (European Society of Preventive, Regenerative and Anti-Aging Medicine), drew from his over 35 years of experience in biomedical research and development throughout the world to pinpoint Sabah's potential in becoming a hub for the training of medical doctors keen on furthering their career in bio-regenerative integrative medicine.
"We are willing to bring in all the top people to train up the locals," he said.
"In fact, we already have a lot of potential and talented people here. There are many Biotech graduates in Sabah, for example, who have ended up working in other areas not relevant to their trade. I'm willing to work with the local universities to provide support to these graduate students, just as European Wellness has done its share of partnerships and studies with scientists from MIT, Harvard, Cambridge, Heidelberg, and universities from China, the same can be done in Sabah."
Prof. Dato' Sri Dr. Mike Chan also touched on Sabah's potential as a biomedical wellness tourism hotspot, citing the state's ability to attract visitors from all around the world with its natural beauty, and how it could leverage this fact by providing guests with world-class biomedical services at the same time.
From wellness clinics and hospitals to educational facilities to more nature-integrated wellness facilities such as 'healing forests', there is plenty of untapped potential among Sabah's skilled professionals and rich natural resources.
"Sabah is, in fact, strategically placed to diversify into bio-pharma industry and biomedical wellness industry – and it is high-time that we do so," said Prof. Dato' Sri Dr. Mike Chan.