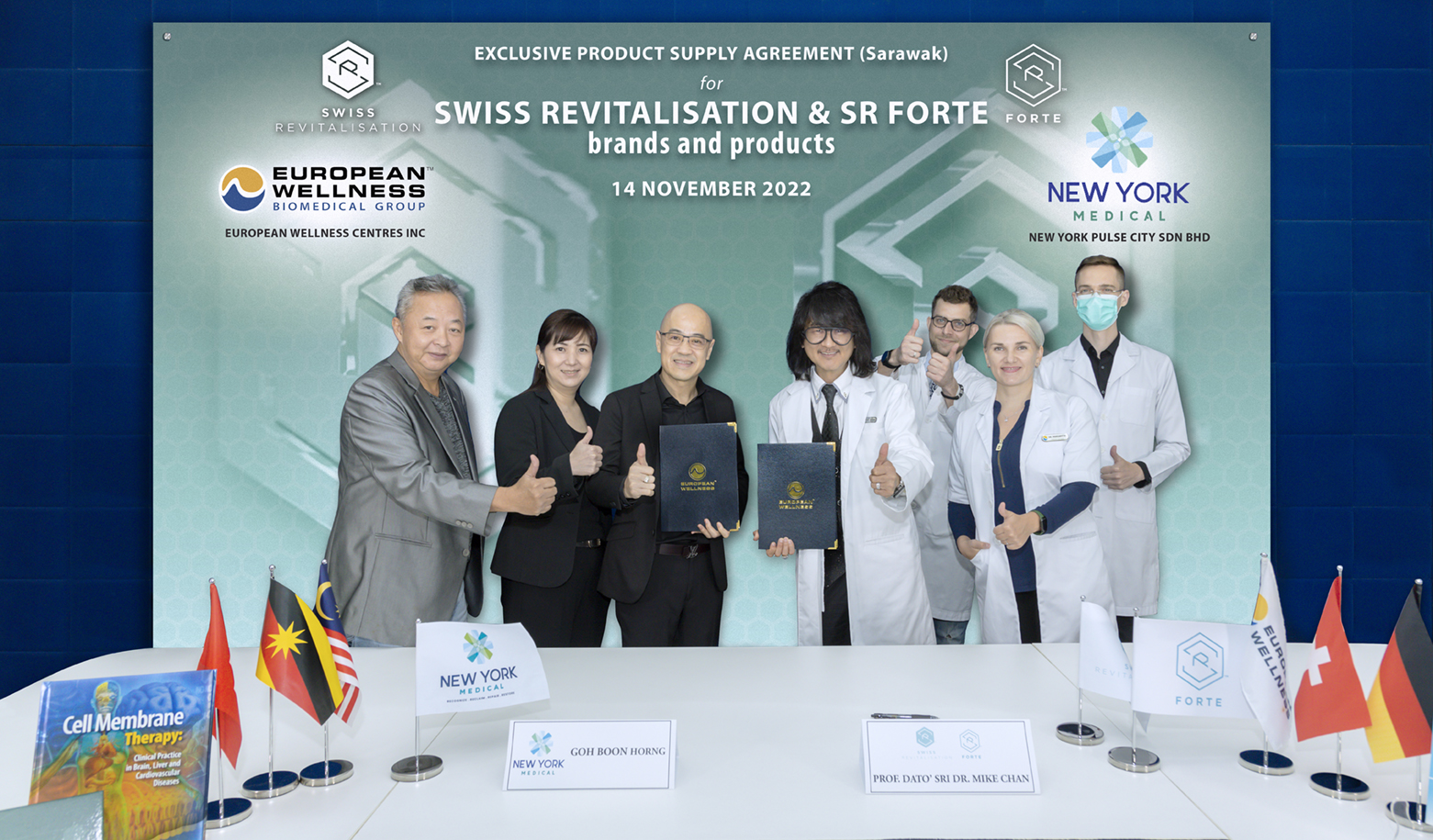 EW Group Inked MoU to Commercialize Swiss Revitalisation and SR Forte Brand in Sarawak
SABAH, MALAYSIA DECEMBER, 15, 2022 – The Memorandum of Understanding (MoU) signing ceremony between European Wellness Biomedical Group (EW Group) and New York Pulse City Sdn. Bhd., took place on November 14, 2022 at NXG Global Sdn. Bhd. Headquarters located in Kota Kinabalu, Sabah.
New York Pulse City Sdn. Bhd. was represented by Director, Mr Goh Boon Horng, while European Wellness was represented by Group Chairman, Prof. Dato' Sri Dr. Mike Chan. The purpose of this MoU signing is to expand the product under the Swiss Revitalisation and SR Forte brands to the New York Medical, within the State of Sarawak, Malaysia. A solid and sustained strategic business relationship which is advantageous to both parties will be developed.
West Kalimantan and Sarawak's close geographical proximity should be a starting point on actively promoting Sarawak as an ideal location for rehabilitation and healing, particularly for the Indonesian market in Kalimantan. Sarawak is one of the increasingly popular destinations for health and wellness tourism because of its affordable yet high-quality health services.
The signing marks a significant milestone in EW Group's effort to supply product in marketing sectors of cell-based anti-aging products. This development will provide EW Group's first leap to enter border tourism of Sarawak-Kalimantan, especially in the consumer and wellness business.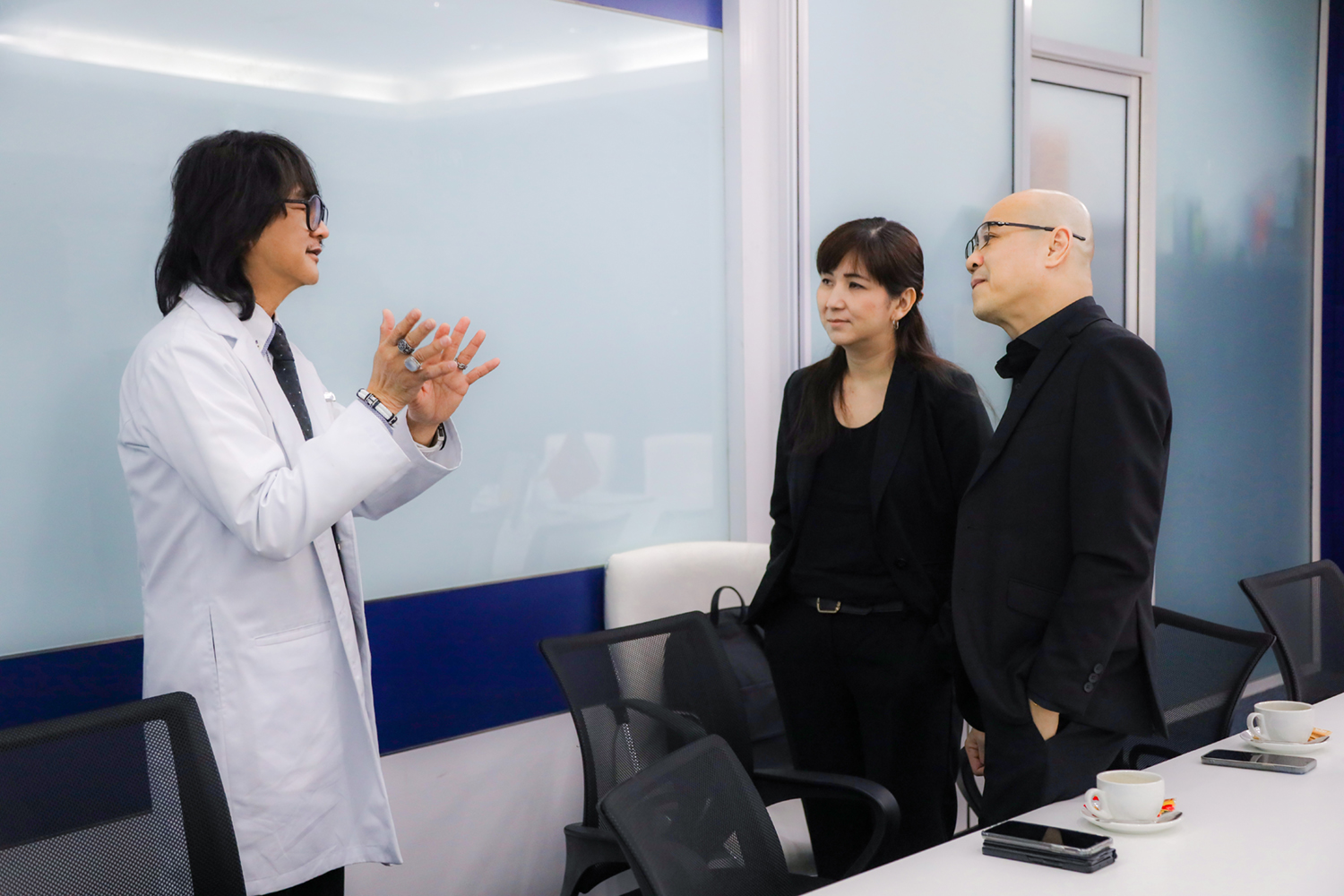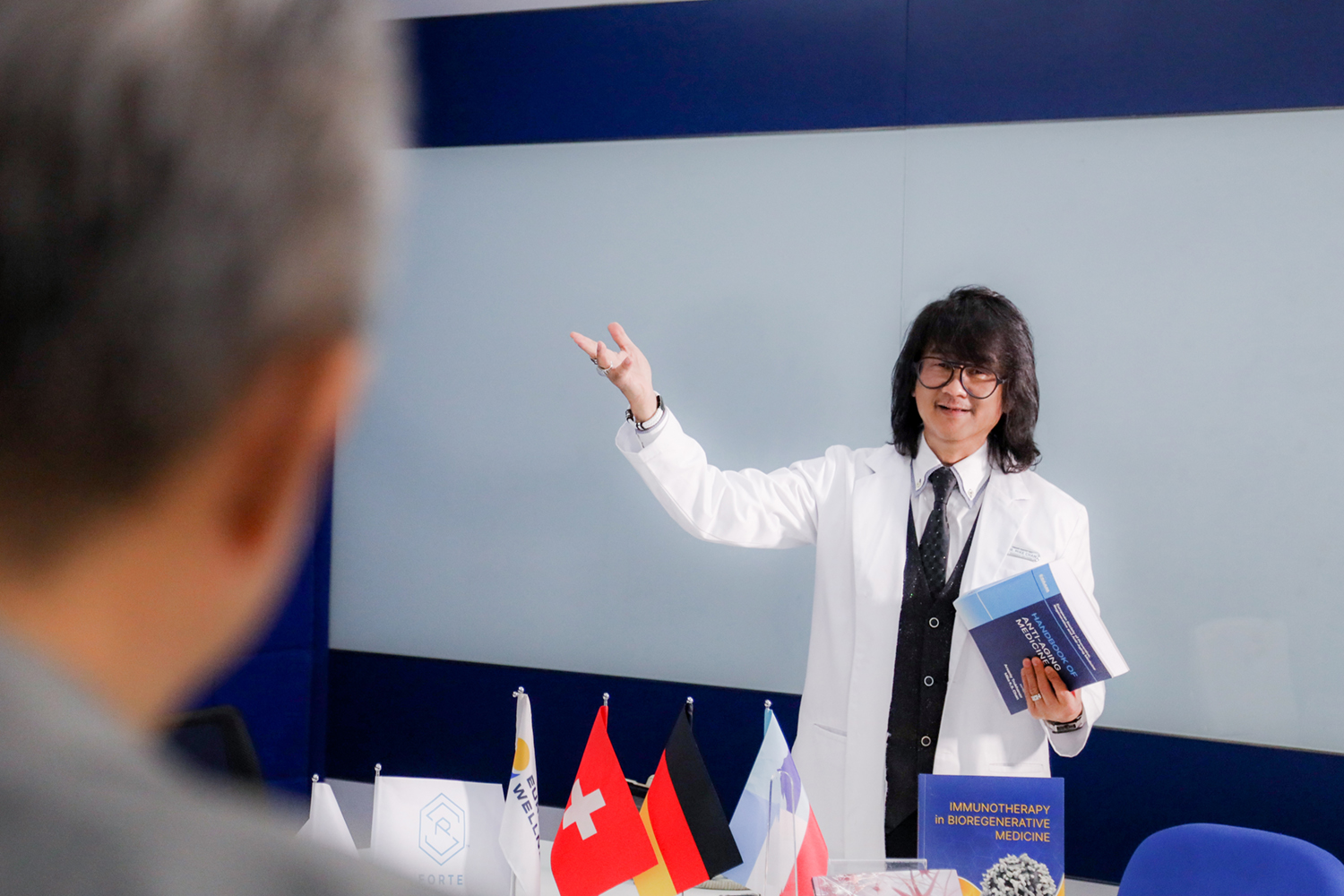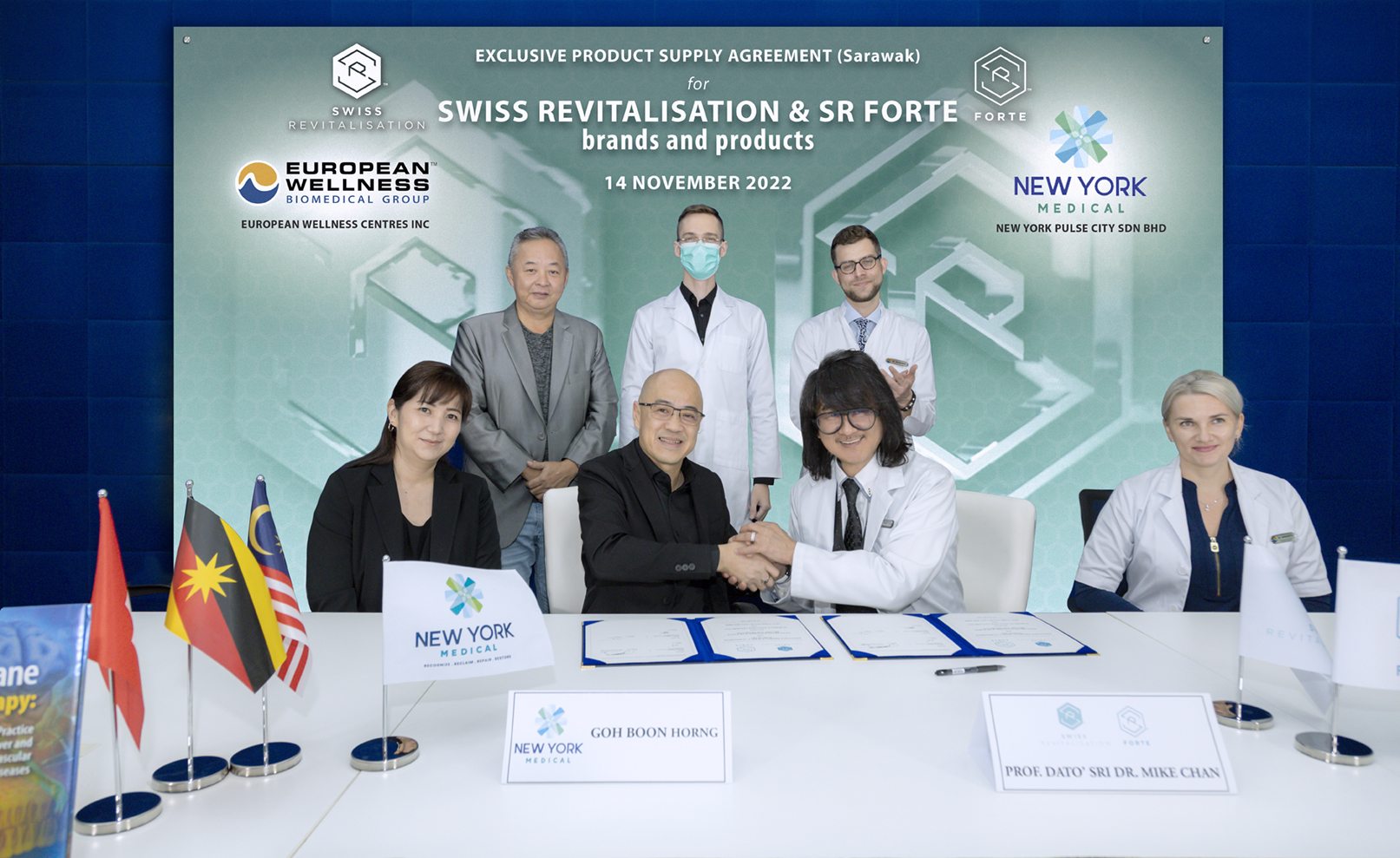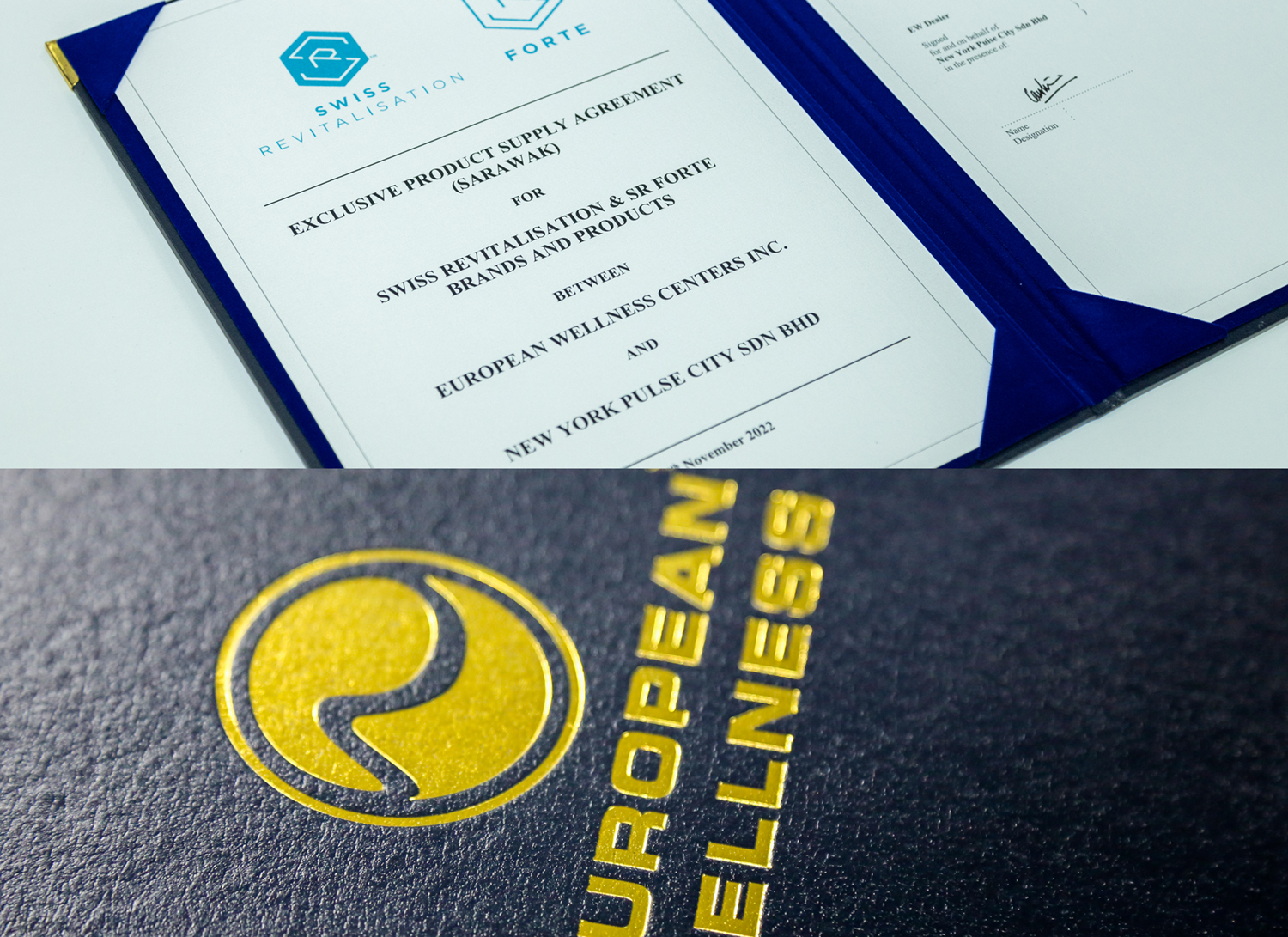 European Wellness Biomedical Group
European Wellness Biomedical Group (EW Group) is an award-winning European group founded by Prof. Dato' Sri Mike Chan and Prof. Dato' Sri Michelle Wong in early '90s in Switzerland through the culmination of early cell therapeutic research efforts spanning across Switzerland, Germany, Russia and Austria since the mid '80s.
Today, EW Group is most renowned for its pioneering developments in organ-specific precursor (progenitor) stem cell therapeutics, biological and synthetic peptides, biological regenerative medicine, immunotherapies, nutraceuticals and cosmeceuticals.
EW Group's multinational business divisions include research and developments, bio-manufacturing, biomedical academies for continuing education and training, anti-ageing centres and nutraceutical product distribution to licensed practitioners and consumers across 80 countries worldwide. EW Group also owns and operates a growing network of internationally accredited Hospital and Medical Centres specializing in Regenerative Biomedicine and luxury Wellness Centres globally. Currently, EW Group is headquartered in Germany and Malaysia (Asia Pacific) with research facilities vested in Germany, Switzerland, Czech Republic, and United Kingdom.
New York Pulse City Sdn. Bhd.
New York Medical Centre Kuching, located in Kuching, Sarawak was established in 2019 for the sole purpose of creating awareness in Regenerative and Preventative Medicine. Using Modern Medical Science and Technology, we heal from the cellular level by treating the root cause of diseases.
FOR MEDIA CONTACT AND INQUIRIES:
Ferellica Anne Martin
Follow Swiss Revitalisation: