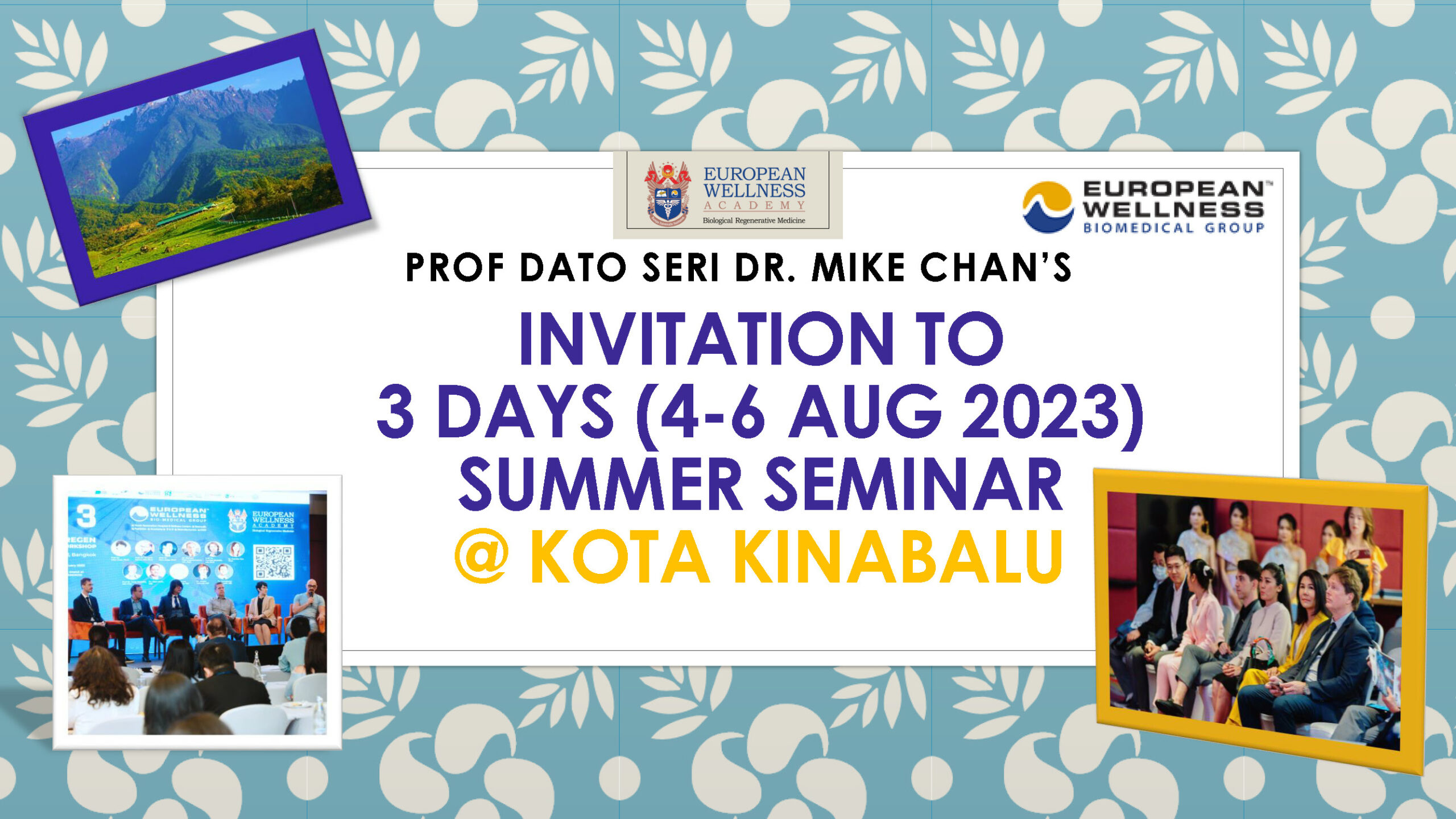 Prof. Dato' Sri Dr. Mike Chan Invites You to a 3-Day Summer Seminar in Kota Kinabalu!
SPECIAL INVITATION TO THE SUMMER SEMINAR @ KOTA KINABALU, AUGUST 2023!
We are pleased to invite you to the:
SUMMER SEMINAR @ KOTA KINABALU
4th , 5th & 6th of AUGUST 2023
i. Kota Kinabalu Marriot Hotel, Sabah [Day 1 & 2]
ii. Across Kota Kinabalu City [Day 3]
Download Flyer
https://ew.box.com/s/xfxb3il83o6249hzgb7asz9e30hd9wtt
Being the fraternity that serves health, wellness, and longevity; we are now ready to bring wellness to the next level. It is, once again, a humbling point for me to take the helm of the 3 DAYS SUMMER SEMINAR where the following themes will be presented to you by myself alongside our team of esteemed speakers.
We take pride and truly value your support to EWA that extends to our SUMMER SEMINAR's partners; the IACT, the IASCT & the ESAAM. Each delegate will be awarded multiple certificates as part of this partnership effort to grow, challenge and scaffold knowledge in Bio-Regenerative Medicine & Sciences.
All throughout this time and undoubtedly, we see you as one of the strong pillars in the medical community here, and moving to the future, we are most honored to host you this summer. See you there!
Best regards,
Prof. Dato' Sri Dr. Mike Chan
Founder of European Wellness
President of ESAAM, Asia Chapter