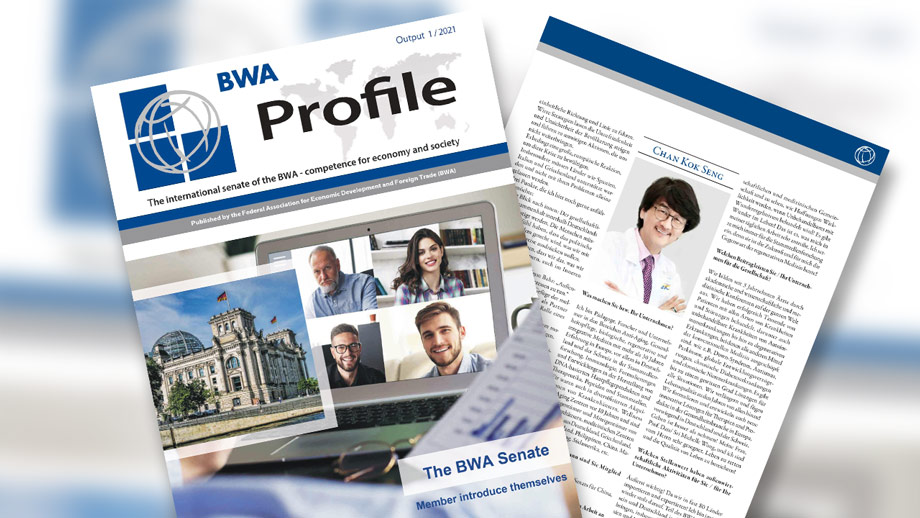 Success, Giving Back, & Challenges | Dr Mike Chan Interview in BWA Profile
Prof. Dato' Sri Dr. Mike Chan, European Wellness Co-founder and Senator of BWA (German Federal Association for Economic Development and Foreign Trade), is featured in an interview in The BWA Profile! He imparts some wisdom on how an organisation might contribute to society and the roles that businesses and policymakers alike will have in the world in combating the pandemic.
Check it out!
1. What do you or your company do?
"I am a pedagogue, researcher and entrepreneur in the fields of anti-aging, health care, and biological, regenerative and integrative medicine with more than 30 years of experience in Europe, especially in Germany and Switzerland. I have been actively involved in stem cell and immunology research, as well as the formulation, development, and manufacture of skin care products and therapeutic agents based on stem cells and peptides. We also diversify our acquisitions by taking ownership of hospitals and wellness anti-aging centers since 10 years ago, and are now owners or co-owners of 26 medical hospitals and centers all over the world, including in Germany, Greece, Switzerland, Thailand, Philippines, China, Malaysia, Hong Kong, South America, etc."
2. Why and since when have you been a member of the BWA?
"Since 2018, as a member of the Senate for China, Malaysia, and Indonesia."
3. What drives you in your daily work – what are you committed to?
"Saving lives, new inventions and developments and elucidation of knowledge within the medical community and society, and seeing how hopes become reality when the untreatable is treated with miraculous results! There are miracles in life. This is what drives me a lot in my daily work. I am always committed to stem cell research, because it is the future and for me the present of regenerative medicine today!"
4. What contributions do you or your company make to society?
"We have been training doctors through academic, scientific and medical conferences around the world for 3 decades. We have also successfully treated thousands of patients with all kinds of diseases and disorders, including untreatable ones – from autoimmune diseases to degenerative diseases where all other means of conventional medicine have been exhausted, such as Down syndrome, Autism, Parkinson's, Diabetes, and chronic kidney disease. There are solutions to all situations to a certain extent. We do our best to extend and add quality of life to everyone's years – we also formulate and develop new innovative solutions for therapies and products in the health sector in Europe, mainly in Germany and Switzerland. My wife, Prof. Dato' Sri Michelle Wong and I have received many blessings from the Lord so that we can save lives and enrich the quality of life of others. Giving is better than taking!"
5. How important are foreign trade activities for you or your company?
"Extremely important, because we import and export to almost 80 countries! I am always proud to be part of the BWA Senate and to bring Germany's economic expertise to the rest of the world, especially in China, Indonesia and Malaysia."
6. In your opinion, what are the greatest challenges the world will face after the pandemic?
"Picking up the broken pieces. For many countries around the world, this means putting their completely collapsed economy back in order. Adapting to the New Normal will also mean, inevitably, that some industries will never fully recover."
7. What do you want from politics so that we can master this challenge?
"The politicians of all countries may have to work "inter se" (among themselves) and reach agreements in order to be better prepared for another possible wave of a new mutation of the virus. Scientists must also work more closely together to mount an effective collaborative effect against this threat, both present and future."