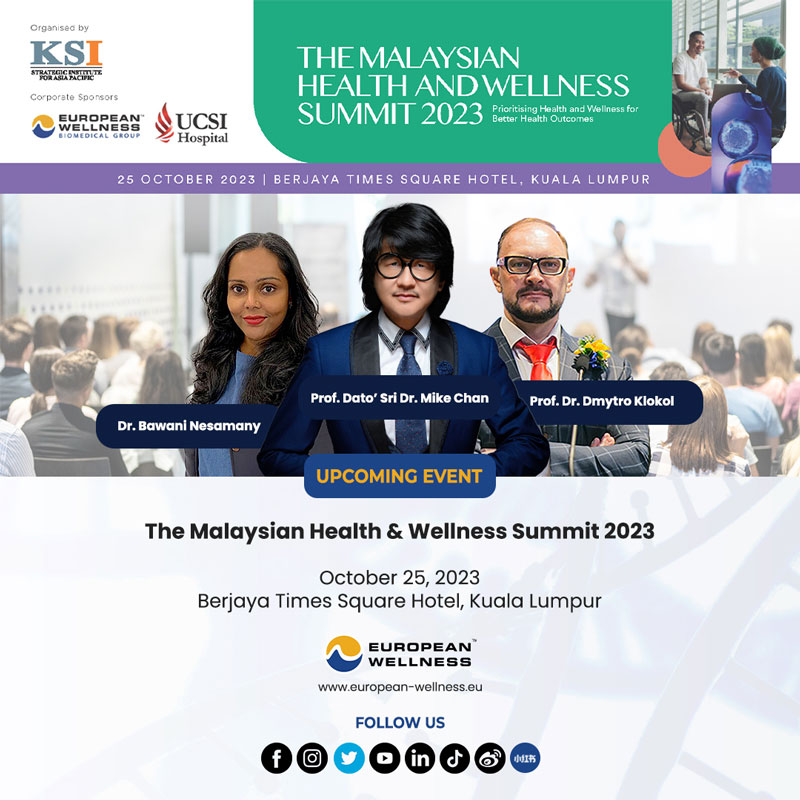 Upcoming Event: Malaysian Health & Wellness Summit 2023!
With Malaysia on the path to becoming an ageing nation by 2030, and with the recent pandemic propelling the surge in demand for medical services, there has never been a more pivotal time to prioritise health and wellness in the country.
European Wellness is delighted to be a corporate sponsor for The Malaysian Health & Wellness Summit 2023, where we will join a powerhouse of leaders, policy-makers, and experts to dissect and discuss the future of health and wellness in Malaysia. Organised by KSI (Strategic Institute for Asia Pacific), the congress provides a platform for us to explore the trends, challenges, opportunities, and possible solutions that will shape the health and wellness industry post-pandemic, focusing on four key areas – health technology and innovation; health tourism and wellness; ageing and elderly care; and public health policies promotion.
📅 DATE: 25th October 2023
📍 LOCATION: Berjaya Times Square Hotel, Kuala Lumpur
Our esteemed experts invited to be speakers include:
Prof. Dato' Sri Dr. Mike Chan, Session 1: Revolutionizing Healthcare – The Role of Technology and Innovation in Transforming Healthcare (10.30AM – 12.00PM)
Prof. Dr. Dmytro Klokol, Session 2: The Future of Health and Wellness Tourism (12.00pm – 1.00pm)
Dr. Bawani Nesamany, Session 4: Wellness Across a Lifespan – New Developments, New Trends and New Opportunities (3:30pm – 4:45pm)
We're proud to be part of this transformative event and to contribute to the dialogue on how we can collectively improve health and wellness outcomes in Malaysia and beyond.
See you there!