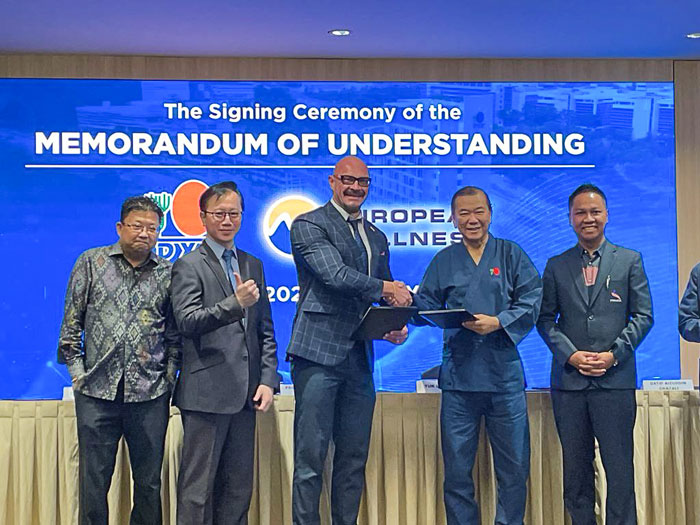 European Wellness and DXN Sign MoU to Establish World-Class Wellness Centre!
European Wellness Biomedical Group (EW Group) have signed a Memorandum of Understanding (MoU) with DXN Holdings Berhad (DXN) to jointly develop and establish a comprehensive wellness centre that draws from the extensive expertise and experience of both parties!
DXN is one of the most globalised publicly-listed Malaysian companies in producing and marketing organic health and wellness products, with dedicated roles in research and development. Their goals are aligned with that of EW Group, whose innovation in precursor stem cell therapeutics, immunomodulation, nutraceuticals, bio-regenerative medicine and more, in addition to its growing network of over 40+ internationally-accredited medical wellness hospitals and centers specializing in bio-regenerative medicine, have made the European Wellness brand renowned in the industry.
"This collaboration is significant; we are moving forward together to capture a new benchmark in holistic wellness solution and rejuvenation management," expressed Prof. Dato' Sri Dr. Mike Chan, who is Chairman, Founder, and Chief Scientist of EW Group.
DXN Founder and Executive Chairman Datuk Lim Siow Jin echoed his sentiments, enthusing that the partnership will usher in a future where the public can enjoy the potential benefits of holistic integrated health care – one that merges state-of-the-art biomedical solutions with high-quality health food products.
During the signing ceremony, EW Group was represented by European Wellness Head of Medical Advisory Board, Prof. Dr. Dmytro Klokol, while DXN was represented by Datuk Lim Siow Jin.
As part of the agreement, EW Group will be engaging in research and development in partnership with renowned universities – including but not limited to Heidelberg University of Germany, the University of California of Irvine, USA, and others – to further bolster scientific and medical knowledge in stem cells, peptides, age reversal, immunology, senescence cells, and Phyto and Myco therapies. Throughout the partnership, EW Group will also be providing wellness expertise, academic support, nutraceuticals, and training knowledge to all DXN distributors worldwide, while both parties will promote and engage in cross-selling of their respective products.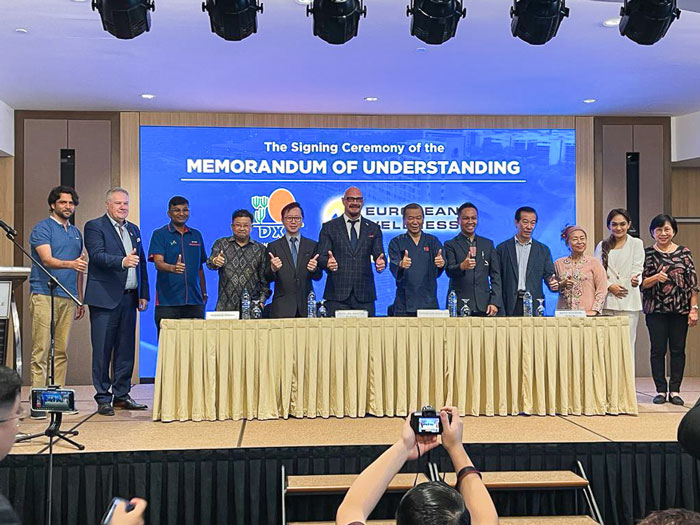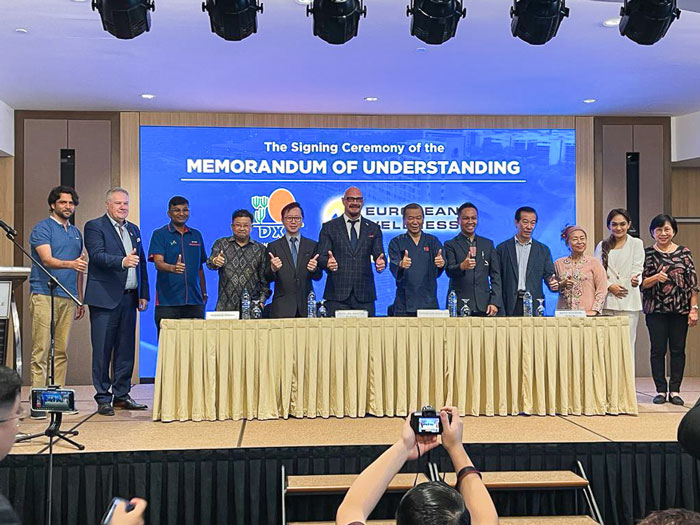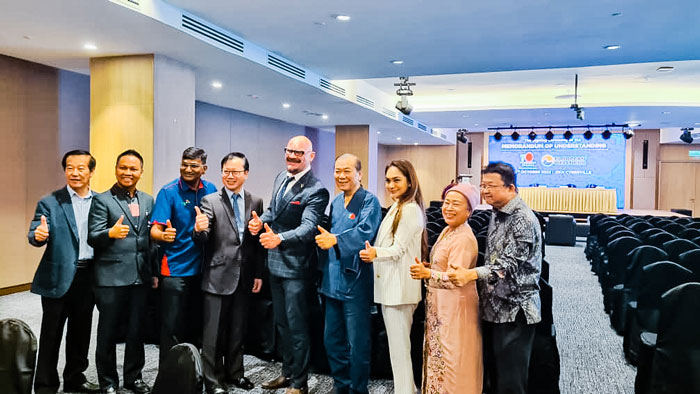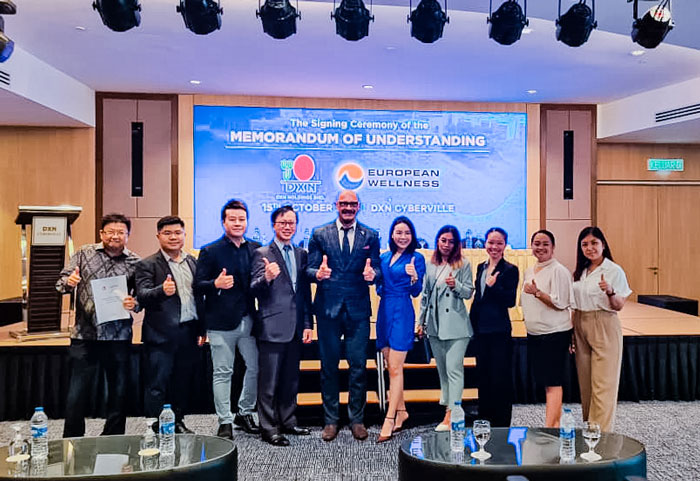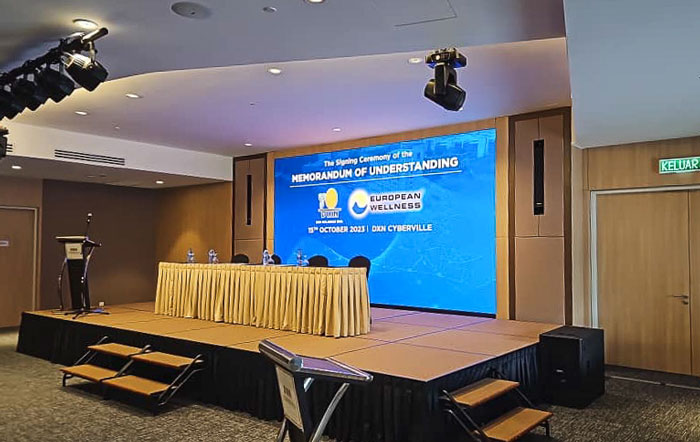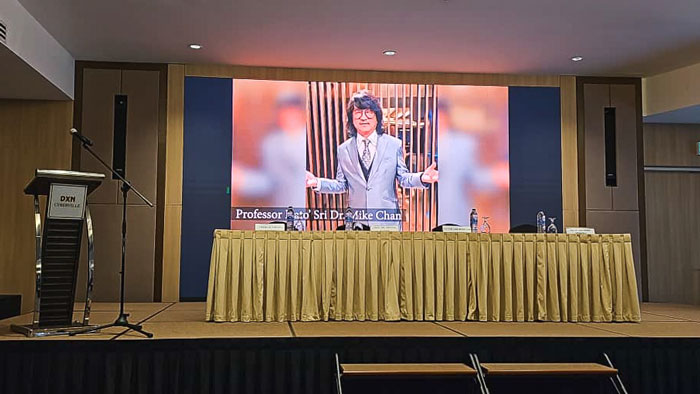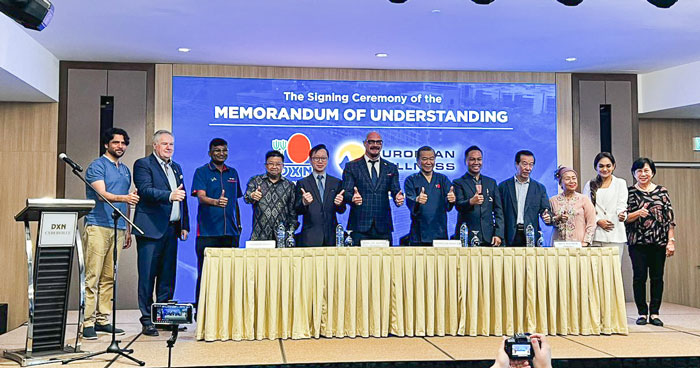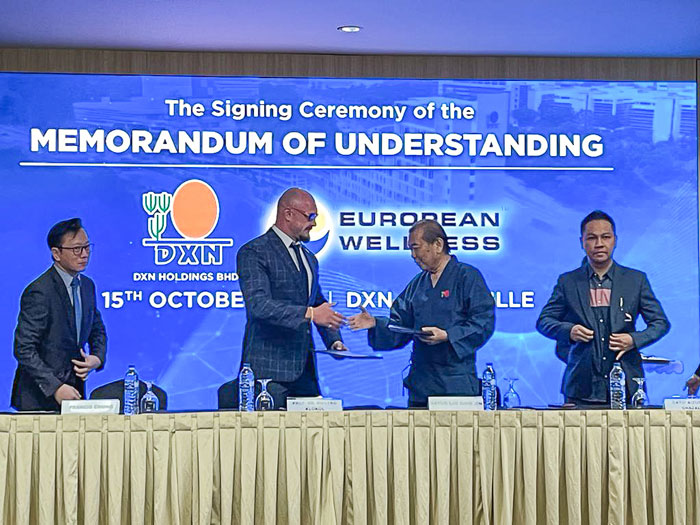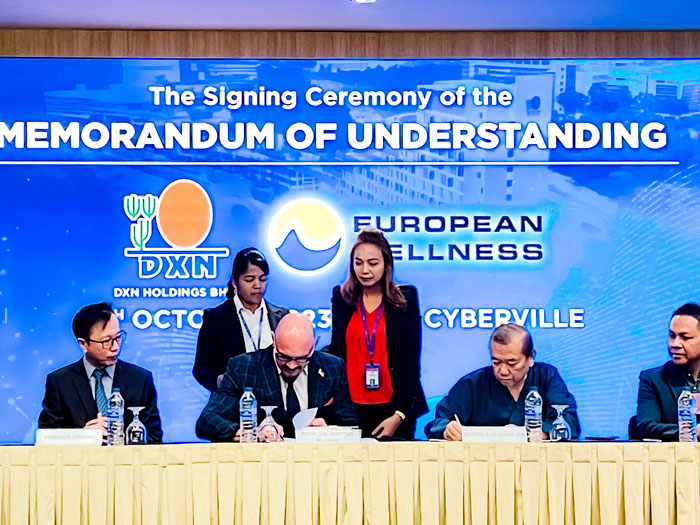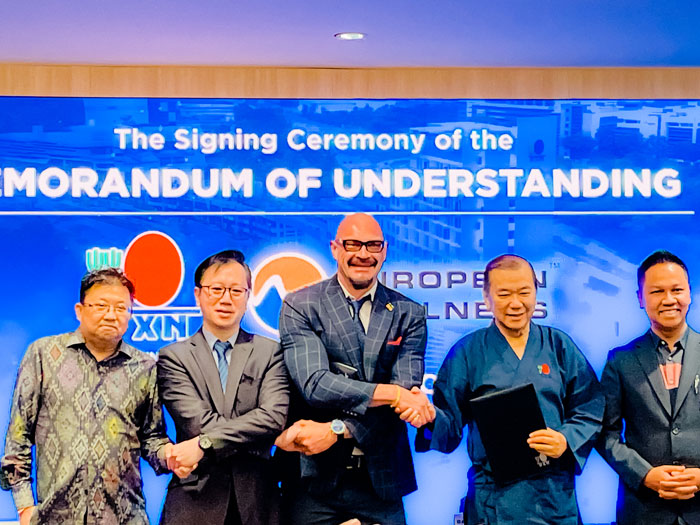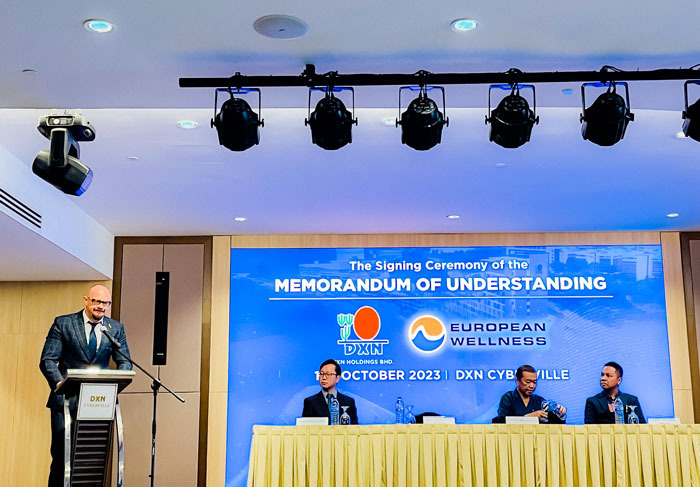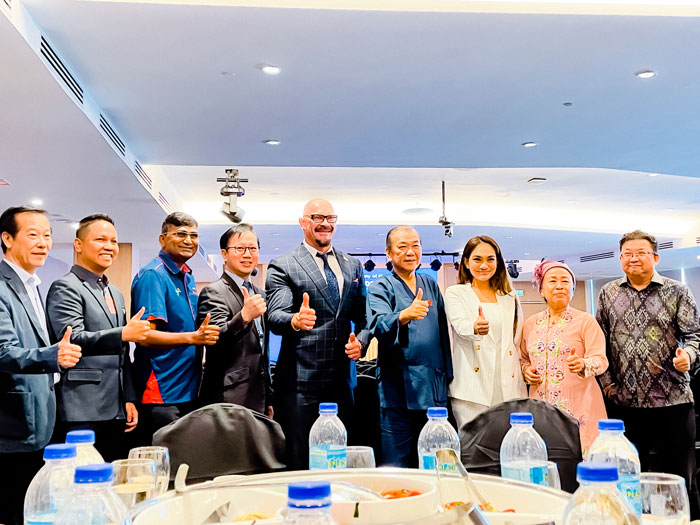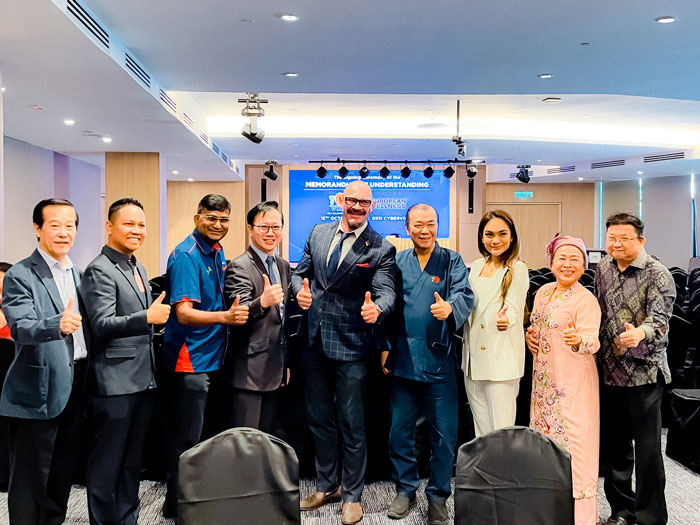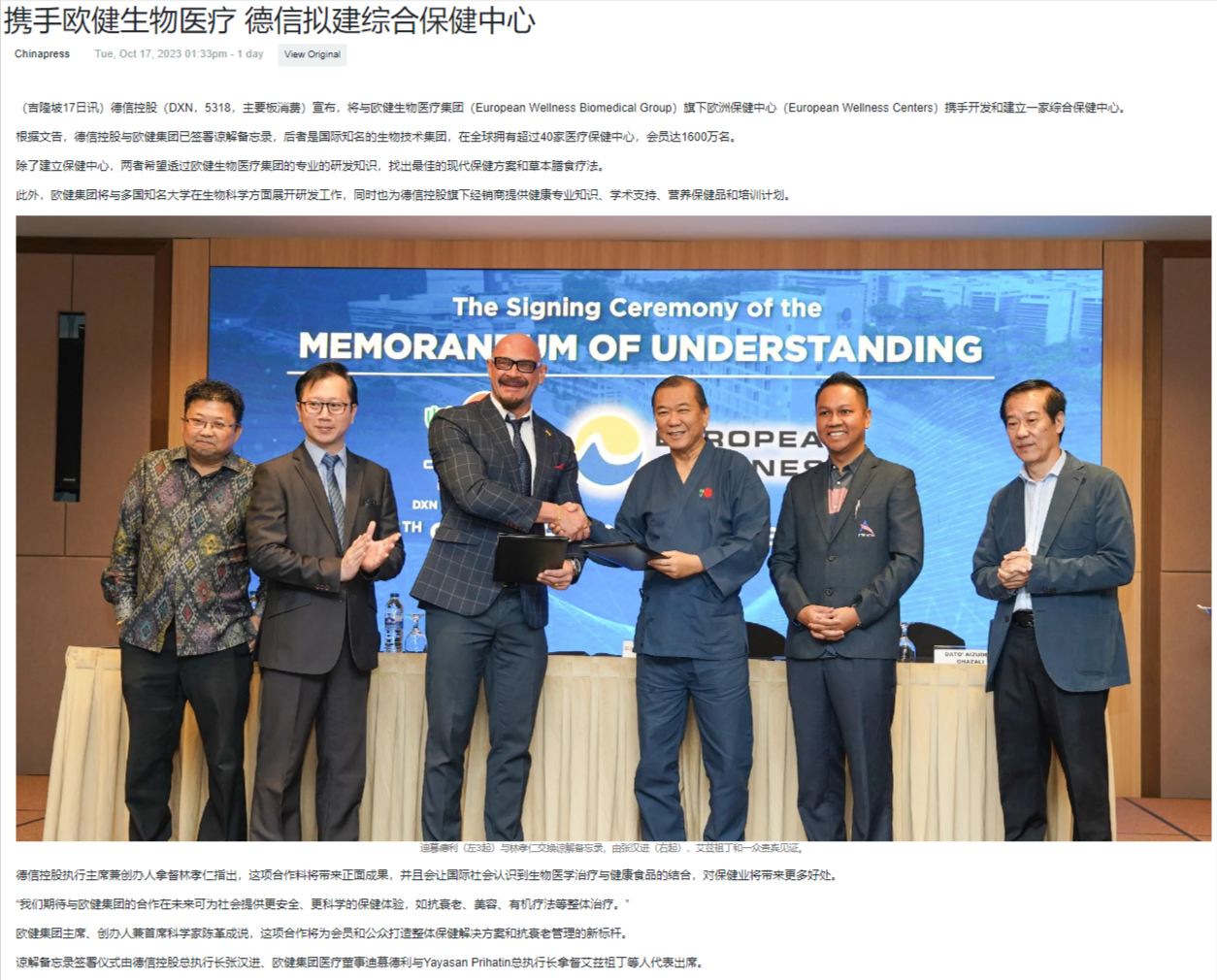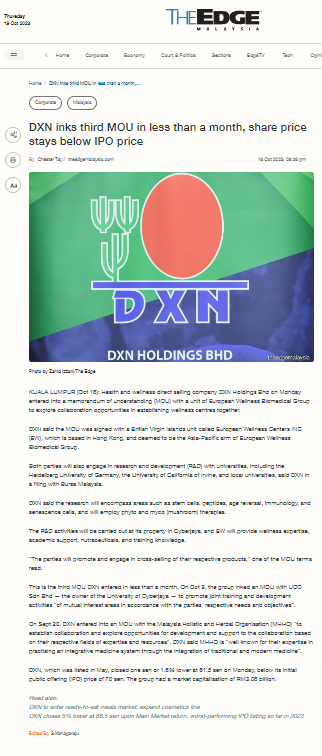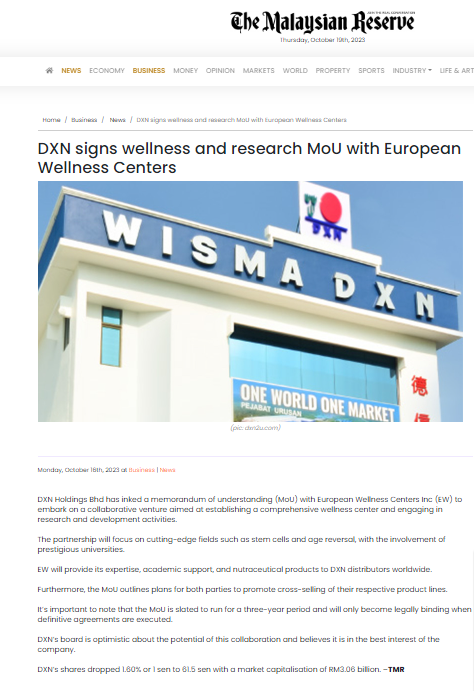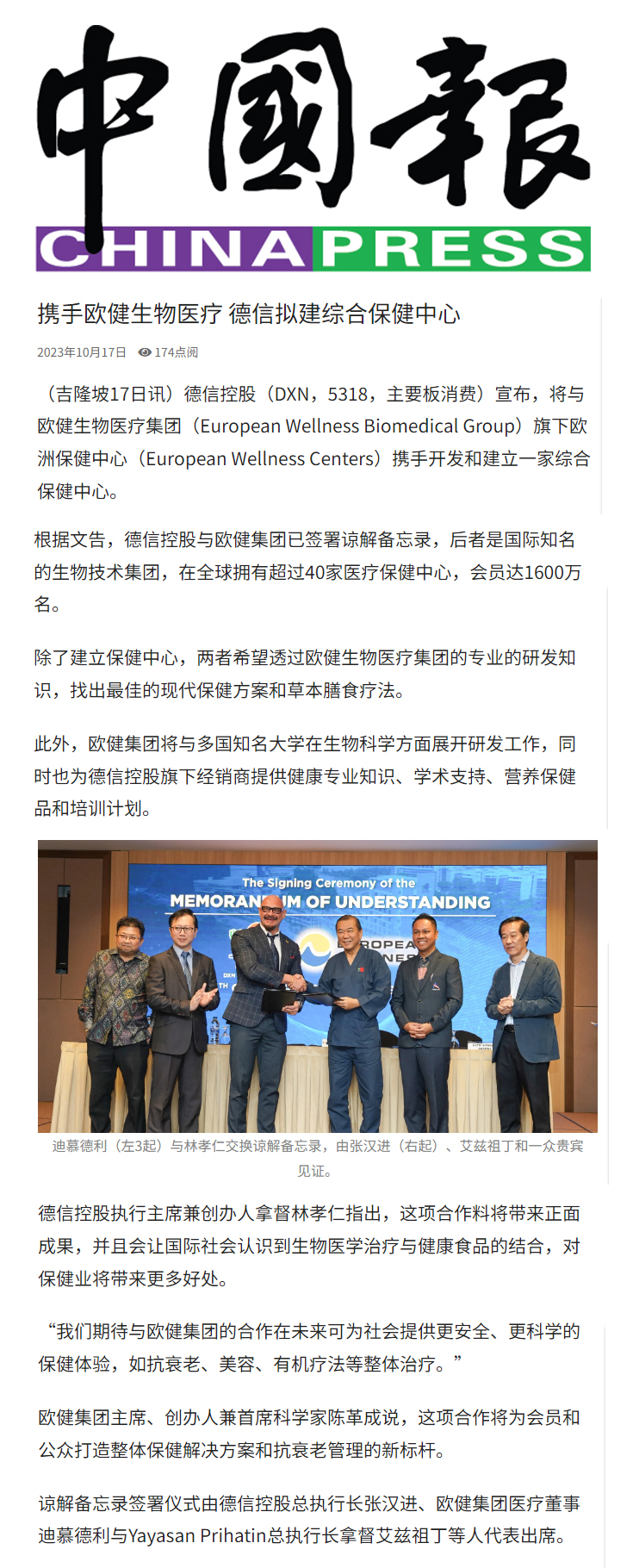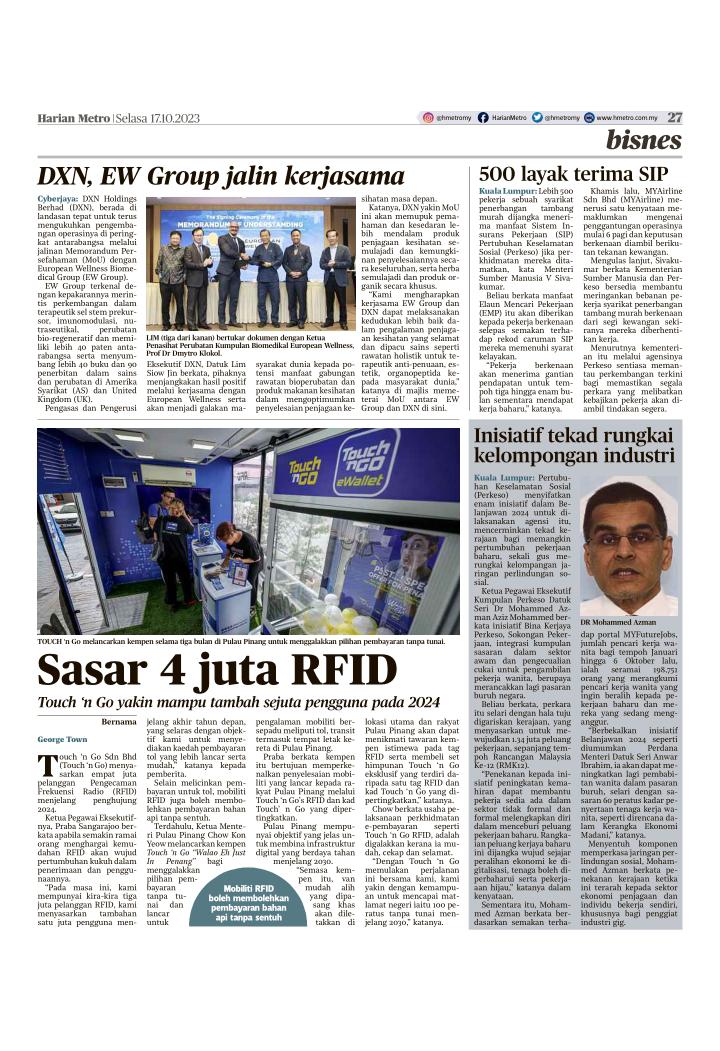 About EW Group
European Wellness Biomedical Group (EW Group) is an international company renowned for its pioneering developments in precursor stem cell therapeutics, immunomodulation, biological and synthetic peptides, nutraceuticals, cosmeceuticals and bio-regenerative medicine, which owns over 40 international patents and has contributed over 40+ books and over 90+ publications in science and medicine in the US and UK. The Group was founded in the early 90's, owns a growing network of over 40+ internationally-accredited medical wellness hospitals and centers specializing in bio-regenerative medicine, and luxury Youth Restoration and Wellness Centers globally. Under the Group, its subsidiaries, European Wellness Center, Bio Peptides LLC (BioPep) and Baden Research & Testing Lab offer different types of services and R & D in Regenerative Medicine, Cell Therapy and Stem Cell Research, which adhere to anti-aging, age reversal, aesthetics, and whole-life disease and health management, committed to goal of achieving better health for everyone. Meanwhile, the Group is also an owner of academy as a leading institution in the field of Bio-Regenerative Sciences and Medicine, making significant contributions to the advancement of this rapidly evolving discipline. European Wellness products has a global presence in over 80+ countries over the last three decades. The Group has won 30+ over international awards as an innovator in the field of nutraceutical and cosmeceutical, for their product quality and achievements.
About DXN
DXN has established itself as a renowned global player in the fortified food and beverages industry, specializing in the cultivation, manufacturing, and marketing of premium products, with a strong emphasis on Ganoderma Lucidum. With an extensive product portfolio that includes fortified food and beverages, health and dietary supplements, personal care and cosmetics and other products and services, DXN has earned widespread acclaim and recognition from various health and business organizations worldwide. The Company's unwavering commitment to quality and innovation has fuelled steady growth over the years, reaching approximately 15.9 million members worldwide solidifying its position as a pioneer in Ganoderma Lucidum products.