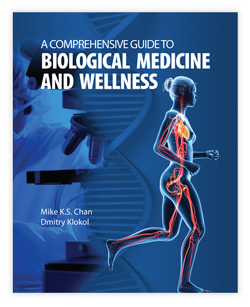 A Comprehensive Guide To Biological Medicine And Wellness
Published by Matador, Troubador.co.uk, London.Medical Research: ISBN 978 1789015 249
Author/s: Prof. Dr. Mike Chan and Prof. Dr. Dmitry Klokol
With the arise of chronic, age and lifestyle-related illnesses, overwhelming stress, toxins and pollution, the society began to value more aspects of personal health than mere physical symptoms – the balance and harmony of mind, spirit and body. The society came to realization that it is not enough to eliminate the symptoms of the disease or even to treat the core of the illness. In most of the cases, the end of hospital treatment of the disease is only the beginning of the actual struggle for the patient. Whatever considered to be an accomplished mission from the point of view of medical protocol is only the beginning of the battle for the patient, which he, often left alone, not necessarily wins.
Our experience in research and practice in various parts of Europe and Asia has brought us to conclusion that best definition for the term "biological medicine" is – "common sense medicine". These therapeutic paradigms are developed, employed and practiced by European Wellness Centers (EWC) – a global network of institutions tied up by the concept of European Biological Wellness. Our philosophy does not support mechanistic approach to the patient but encourages holistic care, promotes therapies stimulating healing and regeneration, and puts wellness as a corner stone of the intended outcomes. Another two integral components of Biological Wellness are maximal safety of the therapeutic modalities and its compatibility with conventional medicine.
Therapeutic paradigms of European Wellness are built on the platform of classical medicine taught and practiced all over Europe. Years spent on gaining experience and collaborating with most prominent European doctors and precise selection of fine treatment modalities from certain Asian traditional medical systems allowed us to formulate a unique system of Biological Wellness that to our knowledge does not have analogues up to date. The core of European Biological Wellness contains principles of biological medicine, which states that the human body is inherently capable of self-healing, and these abilities depend on anatomical, physiological, mental and spiritual balance. Once any component of this integral system is compromised, the occurring imbalance results in the development of disease. While conventional medicine predominantly identifies and emphasizes on symptoms and certain links of pathogenesis, our way of biological wellness, addresses the underlying causes of disease and acts concurrently with any existing treatment, modulates and balances the entire organism and directs it to effective healing and recovery.
The main objective of the book is to offer to the medical community effective holistic diagnosis, detoxification, biological repair and rejuvenation based on the individual needs of the persons and taking into consideration the health status and medical conditions. The book also provides specialized Biological wellness, recovery, and performance enhancement programs for athletes,elderly people, individuals with various untreatable illnesses and congenital disorders with the purpose of improving their general condition and facilitating their primary treatment.