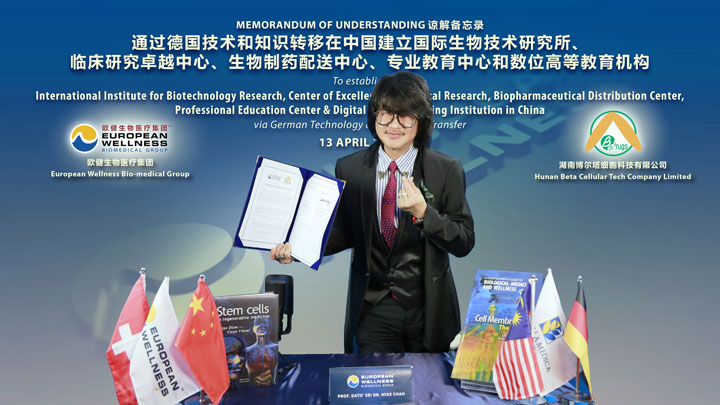 European Wellness and BETA Partner Up to Establish World-Class Biotechnological Institutions in China
We are ecstatic to announce that European Wellness Biomedical Group (EW Group), in our continued push for strategic global cooperation in healthcare and wellness, have signed a new Memorandum of Understanding (MoU) with Hunan Beta Cellular Tech Company Limited (BETA) to establish several biotechnological facilities and institutions in China!
In the April 13 virtual signing session, which saw EW Group represented by its Chairman, Founder, and Chief Scientist/Researcher Prof. Dato' Sri Dr. Mike Chan, and BETA by its Director, Mr. Sathya Moorthy, several exciting new collaborative projects were brought to the fore.
Among the planned Joint Ventures are an International Research Institute for Bioregenerative Sciences in BETA's licensed laboratory facility, which will function to conduct studies on EW Group's portfolio of Cell-Gene-Therapy-Products and Biologics, including precursor stem cells, mitochondrial organelles and nanomised organo-peptides.
The strategic collaboration will also see the establishment of a world-class network of Centers of Excellence for Clinical Research that provide local patients with innovative and cutting-edge medical solutions for specific types of chronic conditions. These will include centers for Pediatric Neurodegenerative and Neurodevelopmental Disorders, Geriatric Neurodegenerative Disorders, as well as Disease Prevention and Age Reversal.
EW Group and BETA will also oversee the development of an internationally-accredited European Wellness-branded professional education center and training academy along with a digital degree-granting higher learning institution on the fields of Biological Regenerative Medicine and Integrative Medicine, with the aim of nurturing local talent and bolstering the growing demand for knowledge tourism by healthcare practitioners in the People's Republic of China.
Finally, the two industry giants will be establishing a parent Biopharmaceutical Distribution Company to undertake the business of registering, importing and distributing EW Group's proprietary products and biological APIs in the region.