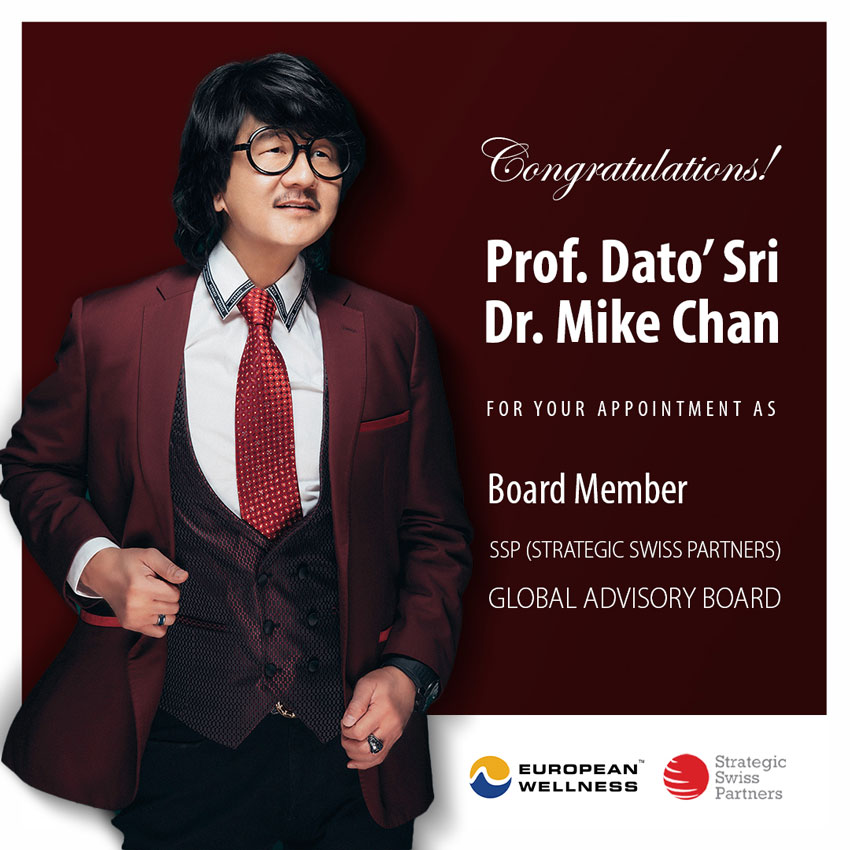 Prof. Dato' Sri Dr. Mike Chan appointed as Board Member of SSP Global Advisory Board
ZURICH: European Wellness Biomedical Group Chairman Prof. Dato' Sri Dr. Mike Chan has been officially appointed into the SSP Global Advisory Board, joining SSP Health Care and Life Sciences, a business unit of Strategic Swiss Partners – renowned management and advisory firm serving multinational corporations, Fortune 500, governments, corporate institutions, and high net worth individuals worldwide!
His expertise and over 38 years of experience in integrative, biological and regenerative medicine, stem cell therapy, anti-aging, biological age reversal, immunology, and quality life extension will no doubt become an important asset in the unit's expansion into stem cell treatment and bio-molecular medicine.
Medicine is constantly developing, with scientists working on new ways to make life easier for patients. One of the greater goals of medicine is to replace or restore damaged tissue, cells, and organs, thus potentially extending life – an area that Prof. Dato' Sri Dr. Mike Chan has intimate knowledge in. The enigmatic scientist's foray into anti-aging and regenerative medicine began in the mid-80s, when he worked under the tutelage of some of the world's greatest cell therapists hailing from the Soviet Union, Germany, and Switzerland. He subsequently pioneered bio-regenerative medicine, cellular/organo therapy, and stem cell research in Europe, and led several companies renowned for anti-aging cellular therapies into rapid global expansion – with operations in research and development, product development, manufacturing and distribution as well as physician education initiatives to improve clinical applications of biopharmaceuticals.
Since then, he has conducted more than a 1,000 lectures, seminars, and symposiums worldwide in the fields of anti-aging, bio-regenerative medicine, and stem cell therapies. His team introduced the world's first medical textbook stem cell book for physicians in 2006 and has authored and co-authored over 40 books on stem cells, aging, neurodegenerative and neurodevelopment disorders, metabolic diseases, biological and regenerative medicine and has 70 scientific and medical publications in USA and UK. He also authored the world's first book on the application of Stem Cells and Peptides on animals (from dogs and cats to birds, horses and camels), which is based on his 3 decades of experience treating animals and working with breeders and pedigree owners worldwide. He also holds membership in more than 20 academic bodies worldwide.
Additionally, Prof. Dato' Sri Dr. Mike Chan and his companies have won more than 20 awards including awards for invention, top leadership, entrepreneurship, quality assurance, and other achievements from international bodies in Europe, the Middle-East, and Asia. Most recently, the accomplished scientist gained global acclaim by receiving the BrandLaureate Brand ICON Leadership Award (2021) and Most Outstanding Brands Leadership Award (2020) from the prestigious BrandLaureate Awards, as well as the Asia Pacific Outstanding Business Leader Lifetime Achievement Award & ASEAN Distinguished Lifetime Achievement Awards (2021), and WCES Excellent Entrepreneur Lifetime Achievement Award (2020). Prof. Dato' Sri Mike Chan also holds multiple international patents in stem cells, immunology, and biotech.
Guna Mahalingam, chairman of Strategic Swiss Partners, said: "Stem cell treatment and bio-molecular medicine is delivering hope for new treatments across many currently untreatable diseases and truly promises to be a game changer when it comes to addressing some of the major health challenges facing the world today. Professor Dato' Sri Dr Mike K.S. Chan has dedicated decades of his life to the field of anti-aging and regenerative medicine and stands out as one of the most respected pioneers in the field. We are proud and honoured to welcome him to the SSP Health Care and Life Sciences team."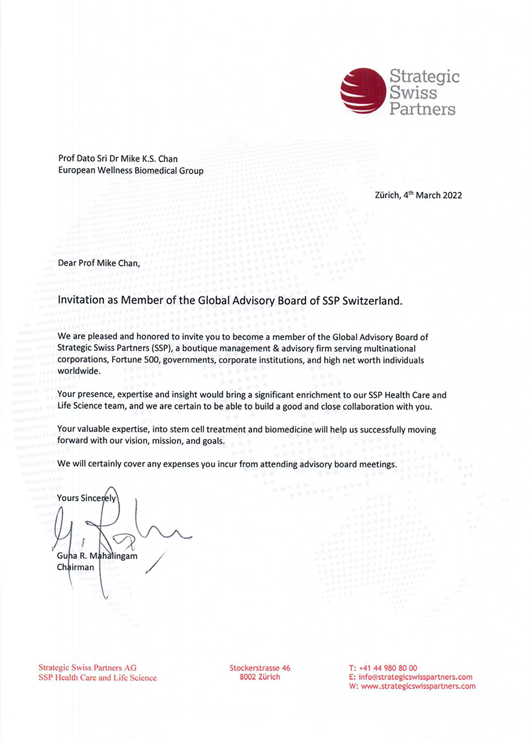 𝗥𝗘𝗔𝗗 𝗠𝗢𝗥𝗘:
https://www.strategicswisspartners.com/single-post/professor-mike-chan-joins-swiss-ssp-health-care-team
𝗔𝗕𝗢𝗨𝗧 𝗦𝗦𝗣 𝗛𝗘𝗔𝗟𝗧𝗛 𝗖𝗔𝗥𝗘 & 𝗟𝗜𝗙𝗘 𝗦𝗖𝗜𝗘𝗡𝗖𝗘𝗦:
SSP Health Care & Life Sciences is a business unit of Strategic Swiss Partners Zurich AG. The SSP healthcare team consists of highly qualified and experienced professionals in pharmaceutical sciences, medicine, marketing, finance, and management, with years of working experience in various industries across several global regions. SSP Health Care & Life Sciences focuses on the successful development and assistance of promising healthcare technology which could benefit millions of people.
https://www.strategicswisspartners.com/
𝗔𝗕𝗢𝗨𝗧 𝗣𝗥𝗢𝗙. 𝗗𝗔𝗧𝗢' 𝗦𝗥𝗜 𝗗𝗥. 𝗠𝗜𝗞𝗘 𝗖𝗛𝗔𝗡:
Prof. Dato' Sri Dr. Mike K.S. Chan, 61, is a Researcher, Author, and Educator who specializes in biotechnology research and development of stem cells, peptide therapeutics, and biological and regenerative medicine. Founder of European Wellness Biomedical Group, Germany – a vertically integrated group comprising key divisions in IP research and development, biotech and biopharma manufacturing plants (Germany & EU), Educational Institutions & Professional Academies, and global product distribution across 80 countries, 30+ hospitals, medical wellness, diagnostics, and youth restorative centers with research labs in Germany, USA, Athens, Switzerland, UK, Turkey and Malaysia.
He currently sits on the Board and heads the Scientific Committee for Regenerative Medicine, ESAAM (European Society of Preventative, Regenerative and Anti-Aging Medicine, Est. 2003) in addition to being the Society's Chairman for the Asian region. He is also an Associate Professor of AASCP, USA (American Academy of Stem Cell Physicians), Chairman for A4M (American Academy of Anti-Aging Medicine, USA) Thailand. He is also Chairman of Japan's Medical Association for Regenerative Medicine, MMJ (Multi-Dimensional Holistic Medical Team Japan) and Senator of BWA, Germany (Federal Association for Economic Development & Foreign Trade for China, Indonesia & Malaysia).
https://european-wellness.eu/advisory/prof-dr-mike-chan/