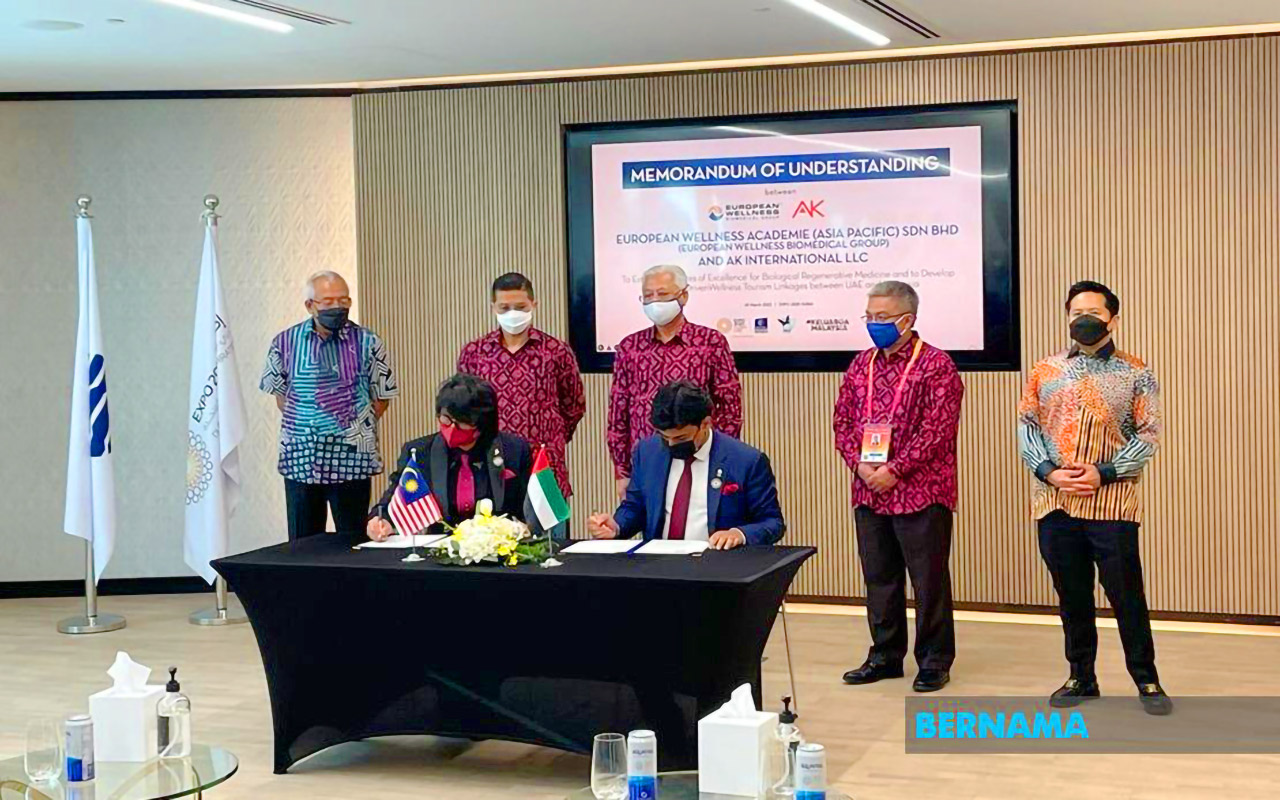 European Wellness and AK International Sign MOU to Strengthen Medical Tourism and Develop Biological Regenerative Medicine in UAE and Malaysia!
On 30th March, 2022, European Wellness and AK International had the honor of being the first to complete an official memorandum of understanding (MOU) signing – under the witness of the Malaysian Prime Minister and four other Ministers of his cabinet – out of 5 MOUs signed at the Malaysian Pavilion of Expo 2020 Dubai!
European Wellness Biomedical Group (EW Group) Chairman Prof. Dato' Sri Dr. Mike Chan and AK International LLC Managing Director Dr. Aasif Ali Siddiqui signed the MOU, penning a new chapter in medical tourism and biological regenerative medicine development in the United Arab Emirates and Malaysia, under the personal attendance and witnessing of Malaysia's Prime Minister YAB Datuk Seri Ismail Sabri Yaakob, Science, Technology and Innovation Minister Datuk Seri Dr Adham Baba, International Trade and Industry Minister Datuk Seri Mohamed Azmin Ali, Rural Development Minister Datuk Seri Mahdzir Khalid, and Deputy Minister of Works Datuk Arthur Joseph Kurup.
It was the first MOU to be signed during the ceremony held by the Malaysian Ministry of Science, Technology and Innovation and Prime Minister's Office. A total of five MOUs, two memorandums of business exploration (MOBEs), a memorandum of agreement (MOA) and a letter of intent (LOI) were signed throughout the signing ceremony, which saw the involvement of many key players in the industry, including the likes of Pharmaniaga and UEM Edgenta.
EW Group, through its Malaysian subsidiary European Wellness Academy, and Dubai-based healthcare distribution and technology group AK International are set to bring the biomedical industries in both countries to even greater heights – marking a significant milestone in EW Group's efforts to scale up the global adoption of rapidly emerging German and Swiss medical paradigms and cell-based bio- therapeutics for the integrative management of chronic degenerative conditions and untreatable rare diseases.
Their strategic collaboration seeks to set up two Centers of Excellence, one specializing in the rehabilitation, education and holistic management of pediatric neurodegenerative and neurodevelopmental disorders such as Autism Spectrum Disorder, Cerebral Palsy, Down Syndrome and Global Developmental Delay, and another specializing in the management of untreatable and rare diseases such as CHARGE Syndrome, Multiple Sclerosis, Rheumatoid Arthritis, and Parkinson's Disease.
"We are confident that our 30 years of cell therapeutic research efforts across Europe, along with a passionate team of international top clinicians trained in Germany and Switzerland, can support the delivery of an impactful and personalized disease management model to the communities in UAE," remarked Prof. Dato' Sri Dr. Mike, who is Chairman, Co-founder, and Chief Researcher at EW Group.
"Moreover, these Centers are also vital frontlines to assist local patients seeking for biological regenerative medicine solutions at our overseas destinations to have easy access to an efficient and collaborative case referral network – from initial inquiry, to preliminary medical investigation, to assisted medical travel, and finally to follow-up care."
Since 2017, EW Group has embraced the growth strategy of licensing its proprietary clinical systems, protocols and patented bio-therapeutics to partners in various joint ventures, resulting in the rapid expansion of its healthcare facility division from 2 flagship centers in Switzerland and Malaysia in 2016 to a global network of 26 medical and healthcare centers today.
This most recent partnership with AK International will also look into the development of a 'Digital Wellness Service Corridor', in the form of a unique AI-driven mobile application pioneered by AK International's subsidiary, Artelir Inc., to seamlessly connect patients from United Arab Emirates with quality healthcare service providers in Malaysia.
According to AK International Managing Director Dr. Aasif Ali Siddiqui, this is in line with one of the goals of the MOU, which is to increase medical and wellness tourism in Malaysia, while also offering Emiratis modern medical treatments in other countries at the same time.
"Patients (from UAE) with incurable uncommon diseases or neurodegenerative disorders, for example, may have restricted access to innovative treatment alternatives, such as cell-based or biomolecular therapies, in their local area," he said, adding that the MOU will provide much-needed pathways for them to access quality healthcare.
The partnership is also set to explore potential investments into Iskandar Malaysia Development Area in Johor for the development of a first-of-its-kind, world-class Halal Hub for Biotechnology and Regenerative Medicine. This unique development project, valued at USD 60 million, will comprise a 100-bed integrative medicine hospital modelled after EW Group's premium medical facility in Germany, with Muslim-centered aged care retirement villas and assisted living apartments, as well as a GMP-certified halal biologics and botanical drug manufacturing facility.
"Our Group is ever ready to extend more than 50 of our proprietary plant-based pharmaceuticals, which have received approval from European-based (e.g. German) international standards and requirements, for immediate production in Malaysia and export them to meet the growing global demand for natural medicine," said Prof. Dato' Sri Dr. Mike Chan.
"This project will bring a tremendous opportunity to strengthen Malaysia's vision and current positioning as the world's Muslim hub for innovative biotechnology developments, especially on herbal medicine research and botanical drug manufacturing."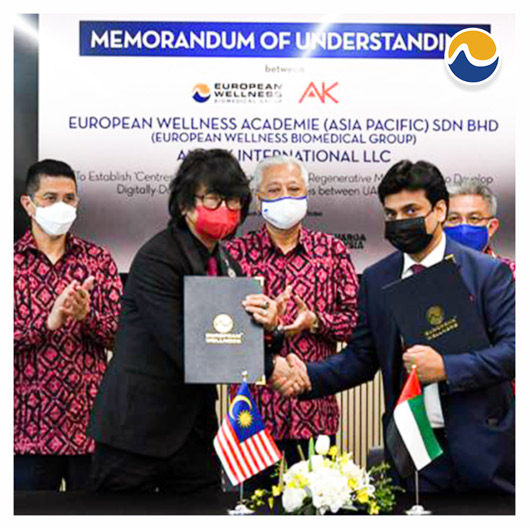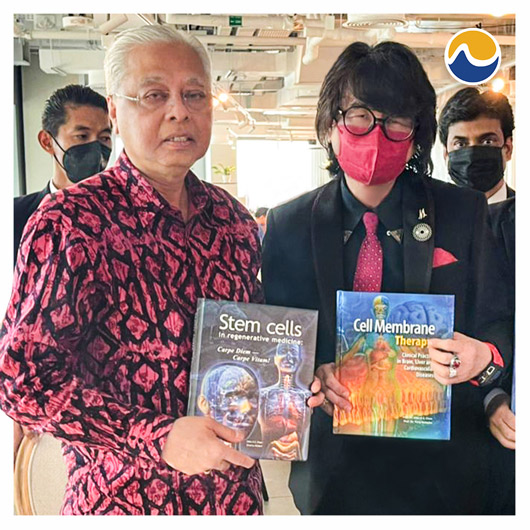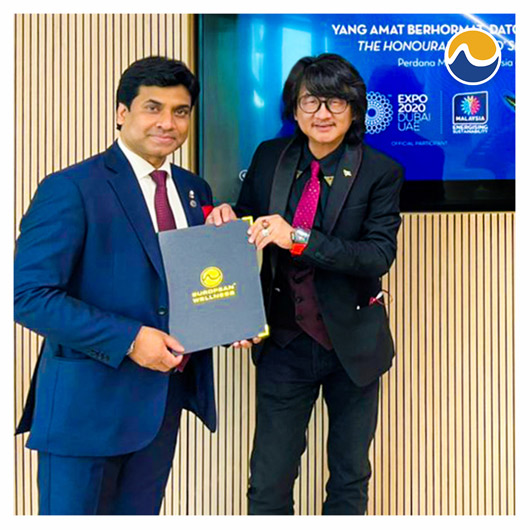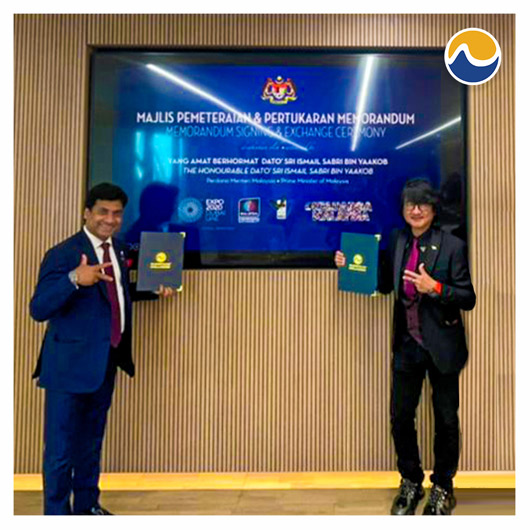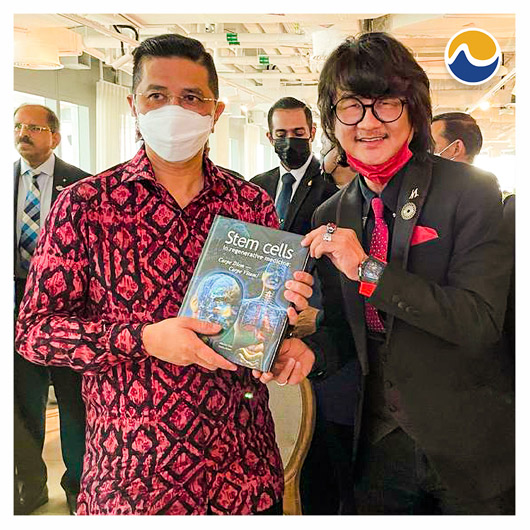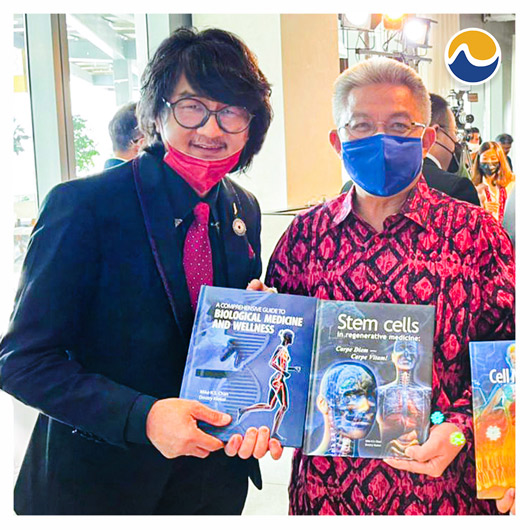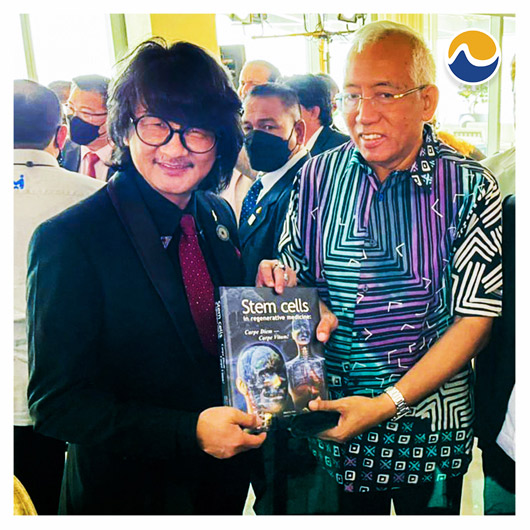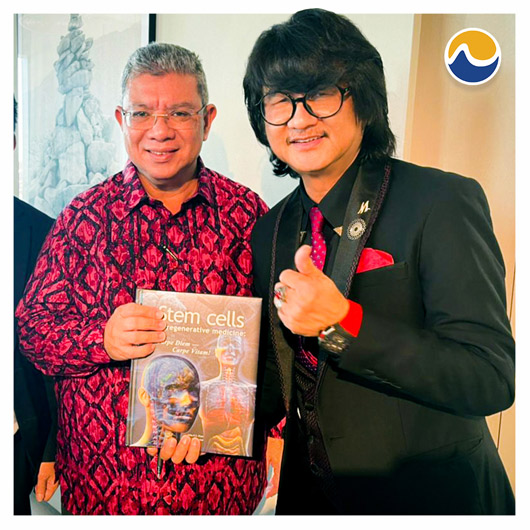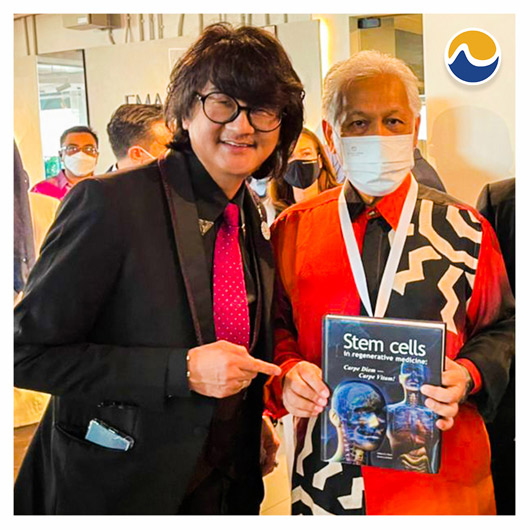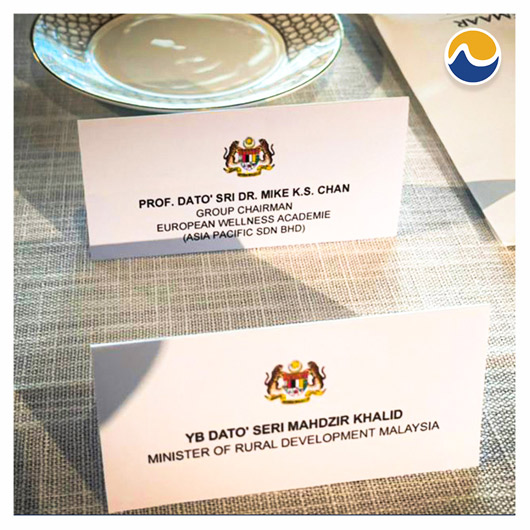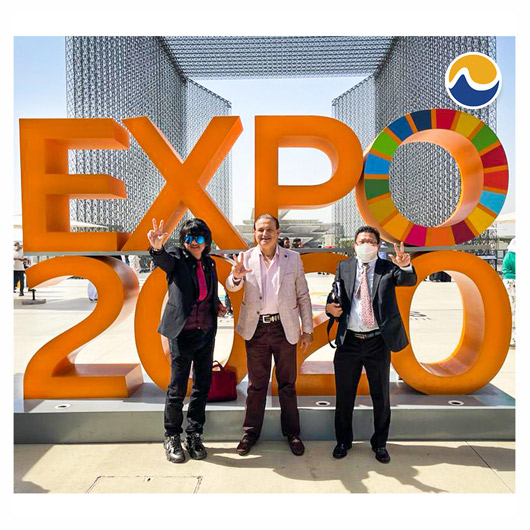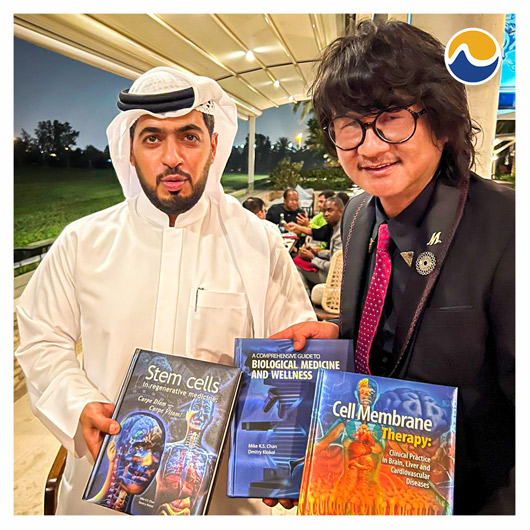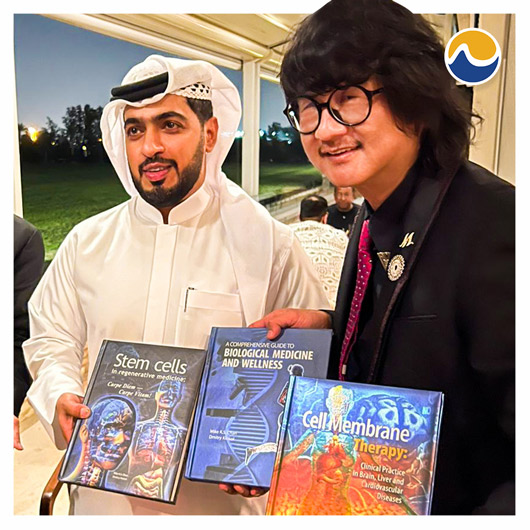 ABOUT EW GROUP:
EW Group is a recipient of multiple awards for its pioneering biotech innovations and inventions as well as product quality from international bodies including from Paris, Geneva, London and Kuwait, and currently holds multiple international patents on innovative biotechnological processes and formulation for its Cell and Gene Therapy Products (CGTP) and Biologics, including precursor (progenitor) stem cells, biological peptides and anti-idiotypic antibodies for immunology and botanical formulation for parenteral nutrition.
Its team of medical and scientific experts under the leadership of Prof. Dato' Sri Dr. Mike Chan have, to date, written over 20 books published in the UK and over 50 publications including peer-reviewed articles in UK and US scientific journals. Much of its biological regenerative medical solutions are built upon its vast experience in human, animal, and plant stem cell research conducted since the 1980s, with Prof. Dato' Sri Dr. Mike Chan highly regarded as one of the pioneers in stem cell research and regenerative medicine in Asia and in many parts of Europe.
Today, EW Group is most renowned for its pioneering developments in organ-specific precursor (progenitor) stem cell therapeutics, biological and synthetic peptides, biological regenerative medicine, immunotherapies, nutraceuticals and cosmeceuticals. EW Group's multinational business divisions include research and development; bio-manufacturing; biomedical academies for continuing education and training, medical facilities and anti-ageing centres; and nutraceutical product distribution to licensed practitioners and consumers across 80 countries worldwide.
EW Group also owns and operates a growing network of internationally accredited Hospital and Medical Centers specialising in Regenerative Biomedicine and luxury Wellness Centres globally. Currently, the Group is headquartered in Germany and Malaysia (Asia Pacific) with its own research and biopharmaceutical manufacturing facilities vested in Germany, Switzerland, United States, Czech Republic, and United Kingdom.
ABOUT PROF. DATO' SRI DR. MIKE CHAN:
Chairman of the European Wellness Biomedical Group, with a chain of international medical wellness centers all over the world including Switzerland, Germany, Greece, Thailand, Philippines, Bangladesh, and Malaysia. Prof. Dato' Sri Dr. Mike Chan is an esteemed expert in anti-aging and regenerative medicine; he and his team of dedicated professionals have been involved in the research, development, manufacture and distribution of innovative health and wellness solutions since the 1980s, and have delivered more than a 1,000 lectures, workshops and seminars around the globe.
He is highly prolific on the international stage and currently holds various top positions including Board Director and Scientific Committee Head of ESAAM (European Society of Preventive, Regenerative and Anti-Aging Medicine), Chairman of A4M (American Academy of Anti-Aging Medicine) Thailand, Chairman of MMJ (Multi-Dimensional Holistic Medical Team Japan), Associate Professor of AASCP (American Academy of Stem Cell Physicians), and Advisor of KSI Strategic Institute for Asia Pacific, among many others.
https://european-wellness.eu/advisory/prof-dr-mike-chan/
ABOUT AK INTERNATIONAL LLC:
Dubai-based AK International LLC and its subsidiaries and Company controlled entities led by Dr. Aasif Ali Siddiqui, is a well-established name in the regional aesthetic market. The company is engaged in the trading and distribution of aesthetic skin products and implants, aesthetic devices, machines, cosmeceuticals, and pharmaceutical products, with a distribution network that reaches over 10+ countries and 10,000+ treatment providers. It also conducts annual Aesthetic Symposiums, workshops, trainings and much more through its academic entity, Aesthetic Knowledge Institute.
With an eye on the future of healthcare, Dr. Aasif Ali Siddiqui has, over 8 years, led the development of a software 'Health Interface' (HI), through a special purpose company, Artelir Inc. headquartered in the USA with a vision: "To create a globally interconnected digital healthcare ecosystem and provide individuals with integrated healthcare services". 'Health Interface' (HI) has been built keeping the patient at the center and connects patients with the global health eco-system. 'Health Interface' (HI) has registered 400 doctors from 20 different specialties on its platform. Artelir Inc. operates a branch office in Dubai.
The strategic cooperation between EW Group and AK International presents a unique opportunity to integrate 'Health Interface' (HI) with European Wellness's global network of 26 medical and healthcare centers.