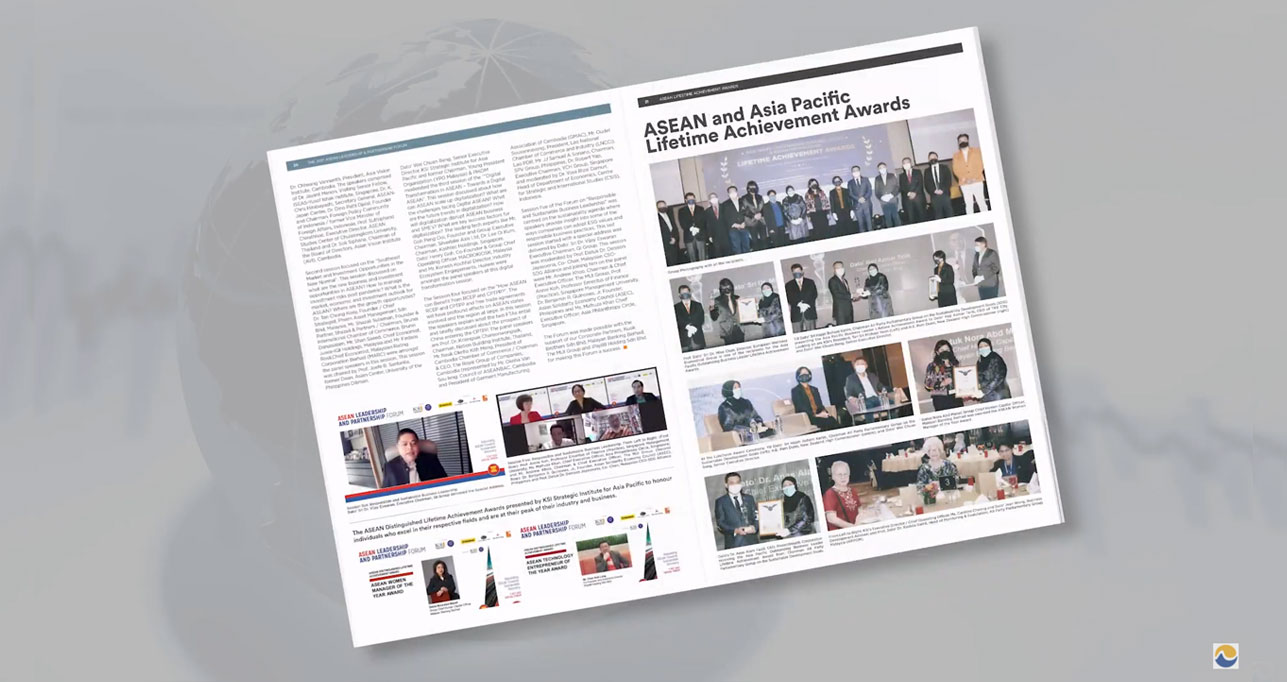 Prof. Dato' Sri Dr. Mike Chan: Leading for Change with KSI Strategic Institute for Asia Pacific
More than a leading scientist, author, and educator in the field of biological regenerative medicine, European Wellness co-founder Prof. Dato' Sri Dr. Mike Chan is also an advocate for change – in particular, change that leads to a world unmarred by social and economic inequalities. One of his many avenues for wide-scale transformation has been KSI Strategic Institute for Asia Pacific.
KSI is an independent not-for-profit think tank dedicated to improving lives and livelihoods, or socio-economic wellbeing, through the development of public policy ideas. Some of the region's greatest leaders, thinkers and policy makers converge in the regular events and conferences held by KSI throughout the year, providing a platform for these ideas to be discussed and, with time, manifested.
After receiving the World Chinese Economic Summit (WCES) Excellent Entrepreneur Lifetime Achievement Award in December 2020, Prof. Dato' Sri Dr. Mike Chan, whose personal achievements had earned the esteemed trust and recognition of his peers, would be appointed as KSI Adviser and World Chinese Business and Economic Summit (WCBES) Co-Chairman in 2021. He also received the Asia Pacific Outstanding Business Leader Lifetime Achievement Award the same year, highlighting a year of personal and entrepreneurial success for Prof. Dato' Sri Dr. Mike Chan.
Since then, he has been involved in several more events organized by KSI – including attending the Global Chinese Economic & Technology (GCET) Summit in Penang, Malaysia as an Expert Panelist in December 2021, and being invited as a speaker at Sabah International Business and Economic Summit (SIBES) in January 2022, where several key members of the Malaysian state's government, private, and civil society sectors convened to discuss current issues and policies.
Prof. Dato' Sri Dr. Mike Chan's comments during SIBES 2022 to open up Sabah for the expansion of biomedical sciences and wellness tourism industries by utilizing the state's natural beauty and local talent pool as well as European Wellness' own network of wellness, academic, research, development, and manufacturing divisions and decades of experience in these industries, received national attention.
His achievements, along with that of his peers and fellow change-makers, were highlighted in the latest edition of KSI Review, the think-tank's publication that provides a yearly in-depth look at their activities and involvement on the international stage.
As the world continues to recover from a global pandemic, efforts are shifting towards helping communities and society as a whole grow through economic, social, educational, and healthcare reforms. European Wellness, with Prof. Dato' Sri Dr. Mike Chan at the helm, is excited to be a part of the change!