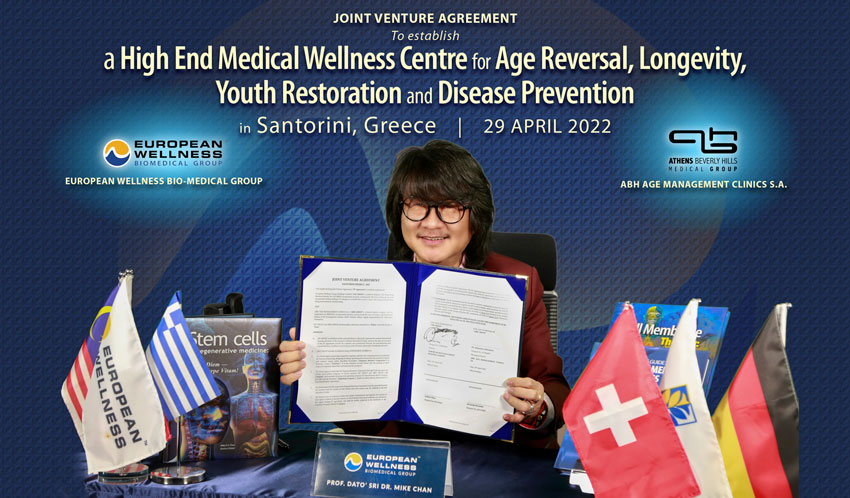 European Wellness and Greece's Largest Aesthetic Group, ABH Group to Establish World-Class Anti-Aging, Longevity, and Disease Prevention Center in Santorini, Greece
29th APRIL, 2022 – European Wellness International GMBH (EW Group) has signed a Joint Venture Agreement (JVA) with ABH Clinical Prevention and Age Management S.A. (ABH Group), joining forces to establish a medical, wellness, and aesthetic retreat center in the heart of Santorini, Greece.
Set against the backdrop of one of the world's most beautiful and picturesque islands, the exclusive, co-branded EW-ABH Center will feature cutting-edge biological regenerative, health and wellness solutions – including proprietary integrative health and cell therapies and age management products and services – that will set it apart as one of the most advanced and well-equipped healthcare and wellness facilities in the Mediterranean.
The two parties agreed to pool their respective resources and expertise for the joint venture in a digital signing session held on 29th April, 2022, represented by EW Group Chairman and Founder Prof. Dato' Sri Dr. Mike Chan and ABH Group Managing Director Dr. Athanasios Athanasiou respectively.
Their strategic cooperation will involve ABH Group's affiliated entity Athanasiou Iatriki S.A., as well as the collective affiliations and subsidiaries of EW Group, including its academic, bio-manufacturing, research, healthcare and wellness center, and product distribution divisions.
According to a recent report by the non-profit organization Global Wellness Institute, the global wellness economy is projected to grow 9.9% annually, reaching a value of $7.0 trillion USD in 2025.
Drawing upon decades of experience in the anti-aging, healthcare, wellness and biological regenerative medicine industries, EW Group and ABH Group are well-positioned to leverage this fast-growing market through their collaboration, which is aligned with their vision to provide surrounding communities with an avenue for high-quality healthcare and wellness.
For more news and announcements, visit https://european-wellness.eu/events/