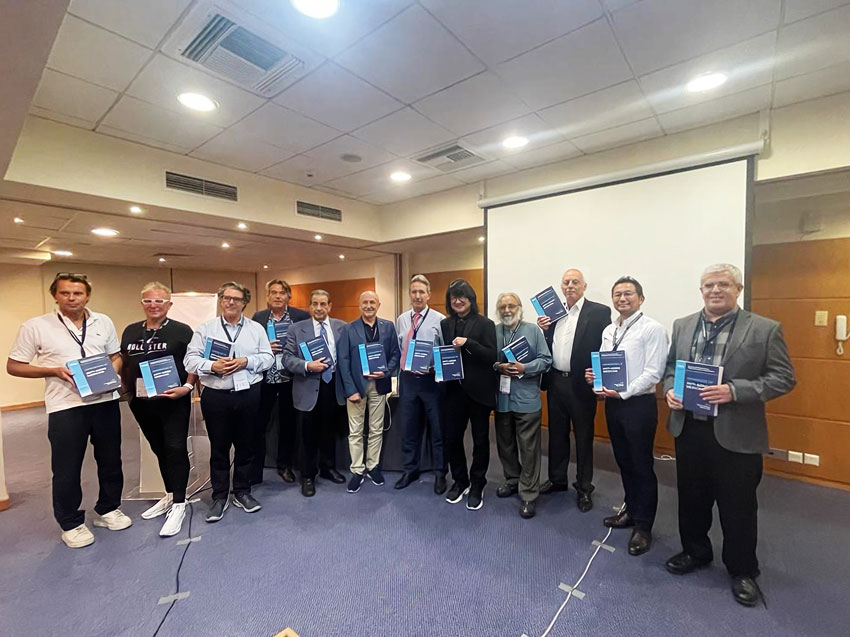 European Wellness at MCAM Cyprus 2022!
CYPRUS: In the luxurious halls of the Golden Bay Beach Hotel overlooking the azure Mediterranean waters off the coast of Larnaca, Cyprus, the 2nd Mediterranean Congress of Anti-Aging Medicine (MCAM) kicked off, joined by some of the world's top experts in the anti-aging scientific and medical community!
European Wellness played a prominent role in the October 14-16 event: in addition to being the Platinum Sponsor for the conference, several of our experts and associates were specially invited as presenters. These included European Wellness Biomedical Group Chairman Prof. Dato' Sri Dr. Mike Chan and Medical Advisor Prof. Dr. Roni Lara Moya, as well as Heidelberg University's Head of Department of Neuroanatomy in the Institute for Anatomy and Cell Biology Prof. Dr. Thomas Skutella.
Speaking to an audience consisting of professional European clinicians, scientists, and researchers from various universities, educational institutions, and organisations, Prof. Dato' Sri Dr. Mike Chan drew on his over 38 years of experience in the field to deliver two presentations throughout the event. He provided the opening lecture on Day 1, presenting on the potential of stem cells and peptides for age reversal. On Day 3, he also presented on the application of stem cells and peptides in treating hair loss and other conditions.
Prof. Dr. Roni Lara Moya, who also provided two separate lectures during the conference, spoke at length about xenogeneic cell therapy and mitochondrial cell therapy, while Prof. Dr. Thomas Skutella provided an in-depth lecture of an anti-aging model of stem cell peptides on HEK and HEPG2 cells in senescence.
Other experts present at the event include ESAAM President Dr. Arseniy Trukhanov and General Secretary Dr. Michael Papacharalambous, Dr. Athanasios Athanasiou, Prof. Dr. Yuriy Titovets, and Dr. Suresh Rattan, among many others.
Aside from the conference, the event also provided a platform for the organiser, ESAAM (European Society of Preventive, Regenerative, and Anti-Aging Medicine) to officially launch the "Handbook of Anti-Aging Medicine" for doctors worldwide, authored by experts Dr. Arseniy Trukhanov and Prof. Dato' Sri Dr. Mike Chan, who was appointed Board Director of ESAAM in 2021.
The handbook, now available for purchase online here: https://european-wellness.eu/product/handbook-of-anti-aging-medicine/, features a comprehensive yet easily digested overview on the different aspects of anti-aging, preventive and regenerative medicine, setting a new standard in these fields for patient care and treatment.
Congratulations to the organisers for a successful event that will no doubt pave the way forward for anti-aging practitioners, scientists, and researchers worldwide!