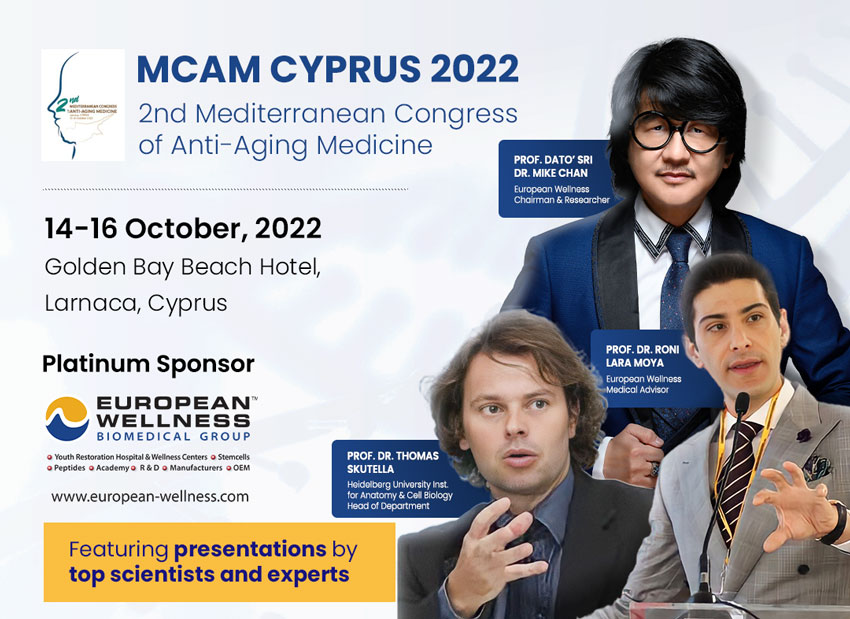 UPCOMING EVENT: European Wellness will be at MCAM CYPRUS 2022!
Situated at the heart of the Bay of Larnaca, Cyprus, the luxurious Golden Bay Beach Hotel will be the site of one of the region's most highly-anticipated events: the 2nd Mediterranean Congress of Anti-Aging Medicine (MCAM)!
European Wellness Biomedical Group Chairman Prof. Dato' Sri Dr. Mike Chan and Medical Advisor Prof. Dr. Roni Lara Moya, as well as Heidelberg University's Head of Department of Neuroanatomy in the Institute for Anatomy & Cell Biology Prof. Dr. Thomas Skutella are among the highlighted speakers during the conference, which explores the latest advancements in anti-aging medicine through comprehensive and practical engagement with top experts in the field.
Organized by the European Society of Preventive, Regenerative and Anti-Aging Medicine (ESAAM), the event is expected to set the anti-aging scientific and medical community alight with its exchange of knowledge amid the backdrop of Larnaca's lush beaches and warm, azure Mediterranean waters. Prof. Dato' Sri Dr. Mike Chan was appointed Board Director of ESAAM in 2021.
European Wellness is the Platinum Sponsor of MCAM CYPRUS 2022 – and we're excited to be a part of history, as the world's greatest minds gather and discuss their findings in the mutual pursuit of improving longevity and quality of life!
Presentations:
14th October 2022 – Satellite Symposium
09:00 – The Future Potential of Stem Cells and Peptides for Age Reversal in Precision Medicine by Prof. Dato' Sri Dr. Mike Chan
09:30 – Regenerative Biomedicine and Xenogeneic Cell Therapy in Immune Rejuvenation by Prof. Roni Lara Moya
10:00 – A Stress-Induced Cellular Anti-Aging Model of Fetal Stem Cell Peptides of Mito Organelles from Lung & Placenta on HEK and HEPG2 Cells in Senescence in Vitro Model by Prof. Dr. Thomas Skutella
14:00 – Mitochondrial Cell Therapy in Anti-Aging Practice by Prof. Dr. Roni Lara Moya
17:00 – Non-Invasive and Painfree Stem Cell Peptides for Hair Loss, Face, Neck, V-Line and Hands by Prof. Dato' Sri Dr. Mike Chan
See you there!