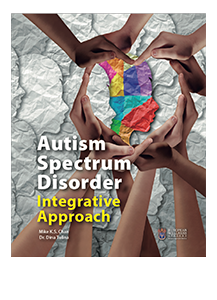 Autism Spectrum Disorder, Integrative Approach
Autism is a mental and psychological developmental disorder with a pronounced deficit in emotional and communication skills. The word 'Autism' is defined as a person being withdrawn into themselves. A person with autism spectrum disorder never expresses their emotions, fails to gesture or speak to others, and their behaviour often lacks social meaning. Many parents are concerned about how to recognise their child has autism and at what age the condition first manifests.
Written in accessible language for parents of patients as well as medical staff, this book provides tests for identifying autism without medical training. The symptoms which constitute Autism Spectrum Disorder are described at great length. The approach to the individual's condition is important. Autism is not an illness or even a diagnosis—it is a state of mind in which a person is ensconced in their own world. This book is based on an understanding of the person's condition, offering comprehensive, holistic help to improve the condition and help the individual socialise and integrate into society.
Parents of children diagnosed with autism often ask their doctor—can the condition be cured? There is no cure for autism, but by using corrective methods, it is possible to significantly improve the person with autism state and help them adapt to the world as much as possible. Of course, parents must work closely with educators, medical providers, and routines over a long period of time but the results of these efforts can be monumental. Autism is not a sentence, it is a story.
Professor Dato' Sri Dr. Mike K.S. Chan is a pioneer of Cellular and Cell Membrane Therapy in Europe and Asia since the early 1980's. He founded one of the world's largest researchers of Bio-Molecular Medicine based in Switzerland and Germany with a global presence in almost eighty countries. He has conducted more than 1,000 lectures, seminars, and symposiums worldwide in the fields of antiaging, cell regeneration, regenerative medicine, and stem-cell therapies.
Dr. Dina Tulina is a specialist in anti-aging and regenerative medicine with extensive experience in the field. Basing her knowledge on scientific and research experience within the scope of neuropsychiatry (age-related brain changes and associated cognitive and mental disorders), Dr Dina has expanded and enriched her expertise by incorporating preventative medicine, natural and complementary therapies for age-related changes, and the use of biologics in regenerative medicine. Guided by the philosophy "He, who owns the youth, owns the future", Dr Dina is deeply passionate about the educational aspects of anti-aging medicine and wellness.